Boxing Fans in the country are all geared up to watch Vijender Singh take on 26 year old Russian Super Middle Weight Pro Boxer Artysh Lopsan on the rooftop of the "Majestic Pride Casino" Ship docked in Goa on the 19th of March 2021 (Friday).
The Pro Boxing Fight Night aptly dubbed "Battle on Ship 2021", is set for India's most decorated Boxer to make a return to the ring after almost 16 months. In his last outing, back in November 2019, Vijender comfortably defeated the much more experienced Ghanain Boxer Charles Adamu in a 8 round contest at Ceasars Palace, Dubai.
This time around though, it may not be a walk in the park for the 35 year old 2008 Olympic Bronze medalist when he comes up against Lopsan who is not only 10 years younger but also taller than Vijender. Lopsan, in his six bouts, has won 4 times, including 2 Knockouts. His last defeat came against 27 year old Russian Compatriot Pavel Silyagin in a WBA Asian Super Middle Weight Title at Moscow in March 2020.
Fight Fans can tune into "Bookmyshow" for the live broadcast on 19th March (Friday) from 8 PM onwards.The show will also be put up on Sony Network the next day as an exclusive feature for TV Audiences.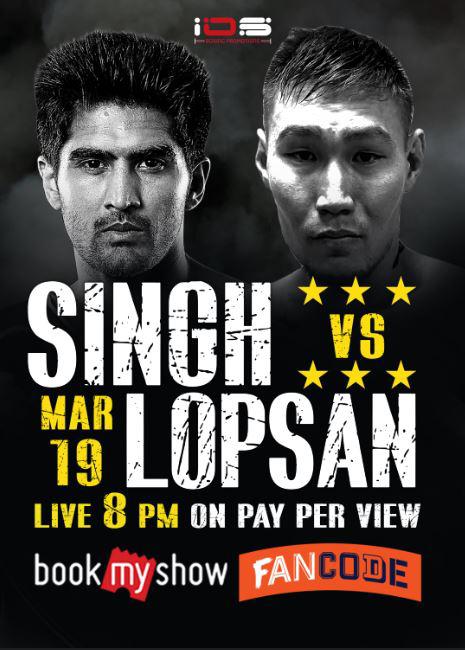 Manchester-based British trainer Lee Beard, who has been Vijender's coach ever since he took the professional plunge in 2015 hasn't been around for Vijender's Training in the past few months owing to coronavirus restrictions.
Former National champion and 2 time Asian Championship Bronze Medallist Jai Bhagwan has been filling Beard's shoes in Vijender's corner for the past few months. Jai Bhagwan who is a serving police officer in Haryana has taken leave to assist Vijender.
"It is going to be a big fight in Goa. Vijender has the experience and unbeaten streak while Lopsan also has a good record under his belt. I'm expecting a really good fight between the two and fans will be able to witness something incredible," added IOS Boxing Promotions' Neerav Tomar.
Owing to social distancing guidelines, only 50 per cent of the general tickets and a limited 150 high-end tickets have been put on sale.
The Fight card includes 7 other Fights
Neeraj Goyat vs. Sandeep
Sabari J Vs Amey Nitin
Digari Mahesh vs. Kuldeep Dhanda
Ramandeep Kaur vs. Rinky Kishor
Mathiyalagan Vs Umesh Havan
Dharmender Grewal vs. Ashish Ahlawat
Md Shamim Vs Pralhad Panda