Full Boxing Match Report from "The Punch 7 "-  Pro Boxing Fight Night organised by Arif Khan & Sports Oodles at Crowne Plaza New Delhi on 13 Sep 2021. 
SHOW HIGHLIGHTS
Sagar Narwat wins WBC Asian Boxing Council Continental Title by defeating Rahul Kumar by Unanimous Decision in 8 Rounds.
Delhi girl Geeta Solanki continues her unbeaten run, wins 3rd fight by UD against Muskan Srivastava from Dewas, Madhya Pradesh
Undefeated Sachin Nautiyal wins 5th fight of his Pro career by KO in the 1st Round against Kuldeep Singh.
Feather Weight
4 Rds
Adil Rajesh Kumar
(Win By MD, 4 Rds)
Nawid
Bantam Wt
4 Rds
Arun Maseh
(Win By TKO, 2nd Rd)
Sourabh Kumar
Light Wt
4 Rds
Amey Nitin
(Win By TKO, 1st Rd)
Pawan Kumar
Welter Wt
6 Rds
Geeta Solanki
(Win By UD 6 Rds)
Muskan Srivastava

Lt Heavy
4 Rds
Arun Sharma
(Win By TKO, 4th Rd)
Amit Rawat
Super Welter Wt
8 rds
Sagar Narwat
(Win By UD, 8 Rds)
Rahul Kumar
Welter Wt
4 Rds
Sachin Nautiyal
(Win By KO, 1st Rd)
Kuldeep Singh
Super Middle Wt
4 rds
Ashish Shethi
(Win By UD, 4 Rds)
Jalaluddin Sheikh
Cruiser Wt
4 Rds
Harsh Gill
(Win By UD, 4 Rds)
Amit Kumar
BOUT 1 : Adil Rajesh Vs Nawed Muhammadi
Super Feather Wt – 4 Rounds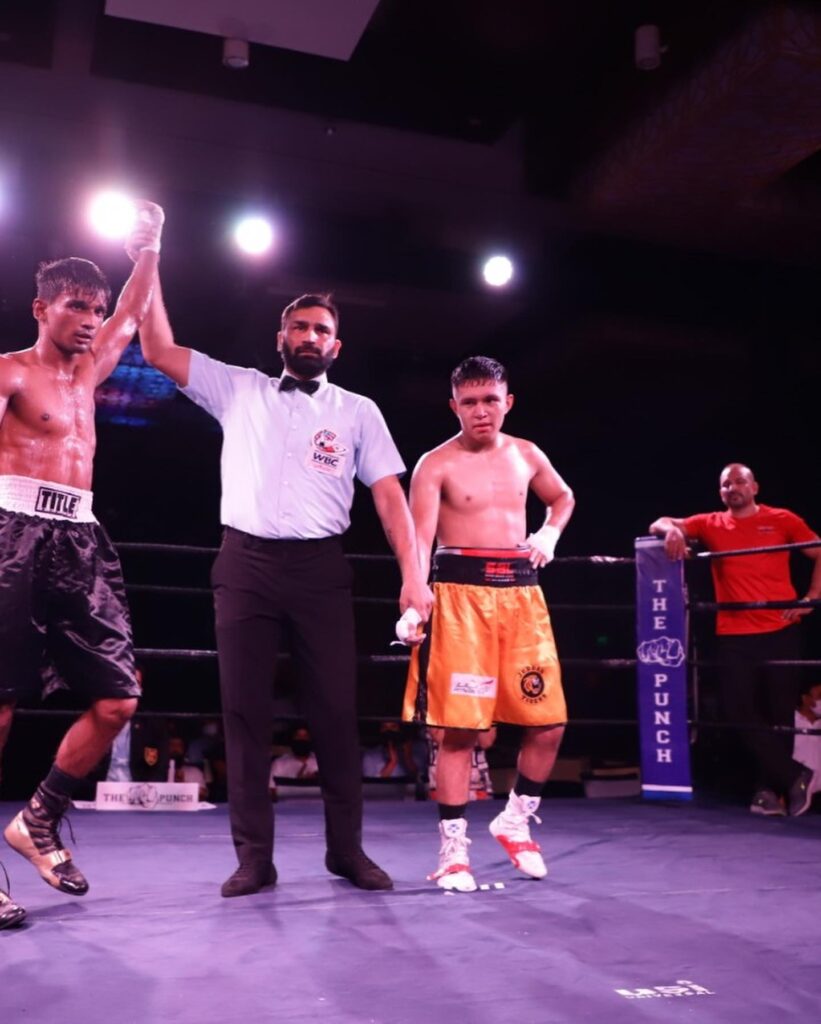 Punch Boxing 7 Fight night kicked off with a bang. An evenly matched boxing bout was a good way to start the proceedings of the boxing fight night organized by Boxing Promoter Arif Khan and Sport Oodles at Crowne Plaza, Noida.
Round 1 was a very cagey affair with both boxers reluctant to open up to the other in the first 2 minutes. Adil Rajesh was taller than Nawed Mohammadi and was able to land a few good combination punches towards the end of the round.
2 Judges scored in favour of Adil and one judge scored the round in favour of Nawed.
Round 2 was completely dominated by Nawed who relied on his superior counter attacking style. Adil had no answers to the flurry of counter attacks he received from Nawed in this round. All 3 judges scored the round in favour of Nawed.
Adil was able to regain his composure and come back very strongly in the 3rd and 4th round with really good footwork and great ring control. He dictated the pace of the bout and kept throwing straight punches through Nawed's defences throughout both the rounds. Nawed looked tired after the effort he put in the 2nd round. All 3 judges scored the 3rd and 4th round in favour of Adil.
Adil Rajesh was declared the winner with a Majority decision as 2 Judges scored in favour of Adil and 1 judge scored the fight as a draw.
BOUT 2 : Arun Masih vs Sourabh Kumar
Bantamweight – 4 rds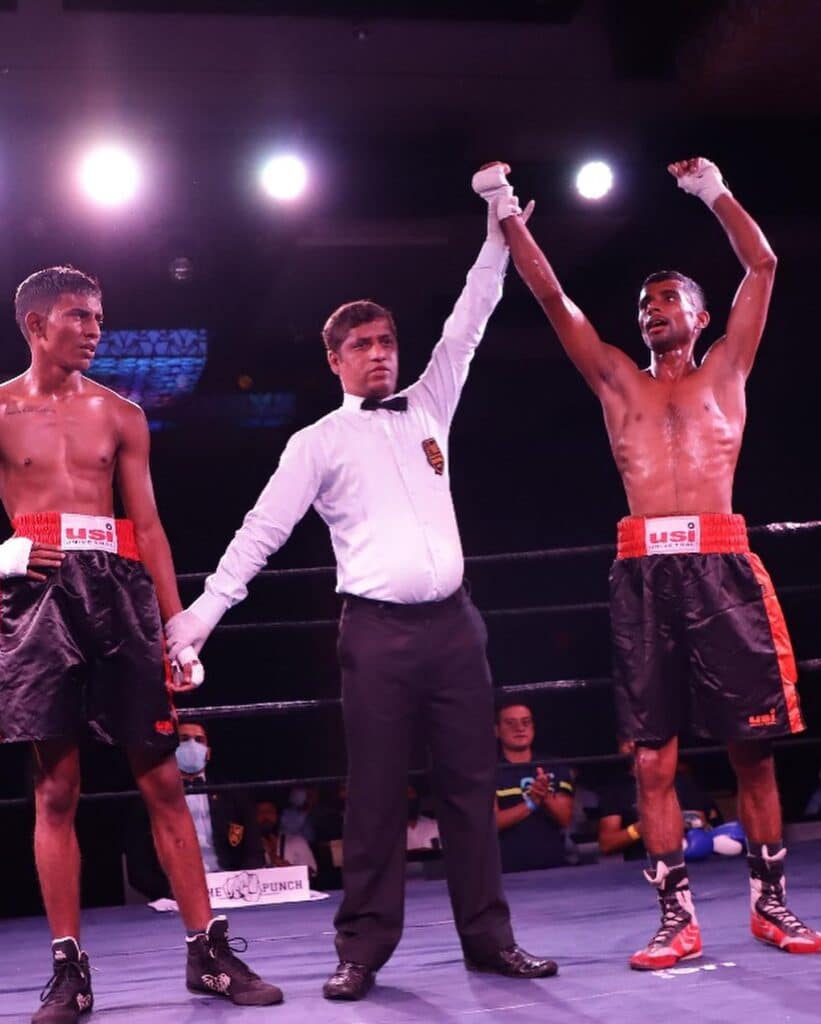 The 2nd fight of the punch boxing fight night would have left a lot of the spectators stunned.
Round 1 was completely dominated by Arun Masih. He used his height advantage and early aggression to pin Sourabh to one of the corners and shower a flurry of punches, hooks and upper cuts without any response from Sourabh.
Round 2 – Masih again started aggressively but Sourabh was not inclined to get pinned to a corner in this round. Sourabh started responding with straight punches to Masih's face every time  Masih tried his hooks and cuts. A couple lusty punches caught Masih square on his face early in 2nd round. That seemed to throw Masih off balance and his rhythm. Masih was now hurt.
Every punch thrown by Sourabh was clean and cutting though Masih's weak defences and rocking his head back. A stretch lasting about 30 seconds on the clock saw Sourabh throw over 20 straight jabs, Right hooks, left upper cuts to Masih's face. Masih had stopped responding by then. Referee Ajay Salvi rightly intervened and ended the bout in favour of Sourabh Kumar.
BOUT 3: Pawan Kumar Vs Amey Nitin
Lightweight – 6 Rds
The 3rd bout of the punch boxing fight night was a 6 round contest  in the lightweight category between Pawan Kumar from Delhi and Amey Nitin from Pune.
Amey Nitin was the more aggressive boxer from the beginning and Pawan was clearly no match for the boxer from Pune.
In a 10 second period in the 1st round Amey was able to pin Pawan to his corner with a barrage of punches causing a knockdown.
Referee Suraj Thakur stepped in and gave the mandatory 8 count. Pawan looked groggy but signalled his intent to continue fighting. But it wasn't long before he slipped trying to avoid the hooks being thrown by Amey Nitin. He seemed to signal an injury to his left ankle.
Dr. Sanjogita Soodan, Chairperson Medical Commission of the IBC, who was officiating as a Ringside Medical support was asked to intervene and she gave a Red Flag for the bout to be stopped.
Amey Nitin was declared the winner with a Technical Knockout (TKO) in the 1st round.
BOUT 4: Geeta Solanki Vs Muskan Srivastava
Welterweight  6 Rds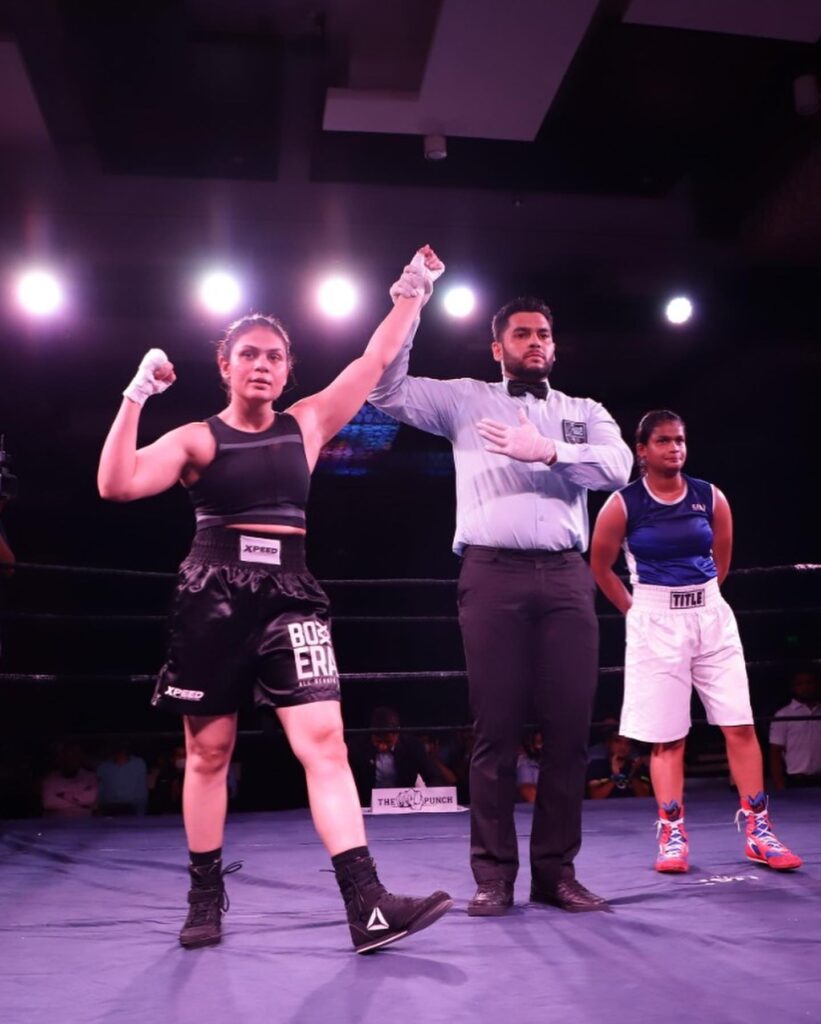 The 4th fight of the evening was a women's welter weight contest between Geeta Solanki from Delhi and Muskan Srivastava from UP. Geeta was looking to continue her unbeaten pro boxing record of 4 wins and no losses while Muskan was fighting her 3rd Pro bout and had a record of 2 wins in her previous 4 outings.
Both boxers were prepared for the 6 round bout. In the first 3 rounds, Geeta started slow but controlled the ring admirably with basic one-two's and combinations which landed very heavily on Muskan.
Geeta Solanki was careful to stay out of Muskan's reach throughout the first 2 rounds. A few jabs and hooks from Muskan landed lightly on Solanki, but did not seem to make any significant dent on Geeta.
By the 5th round, Muskan had to pick up her work rate and intensity much higher if she expected to get anything out of this contest. Early in the 5th round, she charged with a few combinations of punches at Solanki, but Solanki was able to weather the temporary storm very comfortably. Muskan was now visibly tired and her hooks failed to even lift above her own hip levels. As time went on, Solanki seemed more composed and much lesser fatigued in comparison to Muskan.
All 3 Judges scored all the 6 rounds unanimously in favour of Geeta Solanki. It was a comfortable Unanimous decision victory for the Delhi bred former Amateur 2 time National Silver Medalist.
BOUT 5: Arun Sharma Vs Amit Rawat
Light Heavyweight – 4 Rds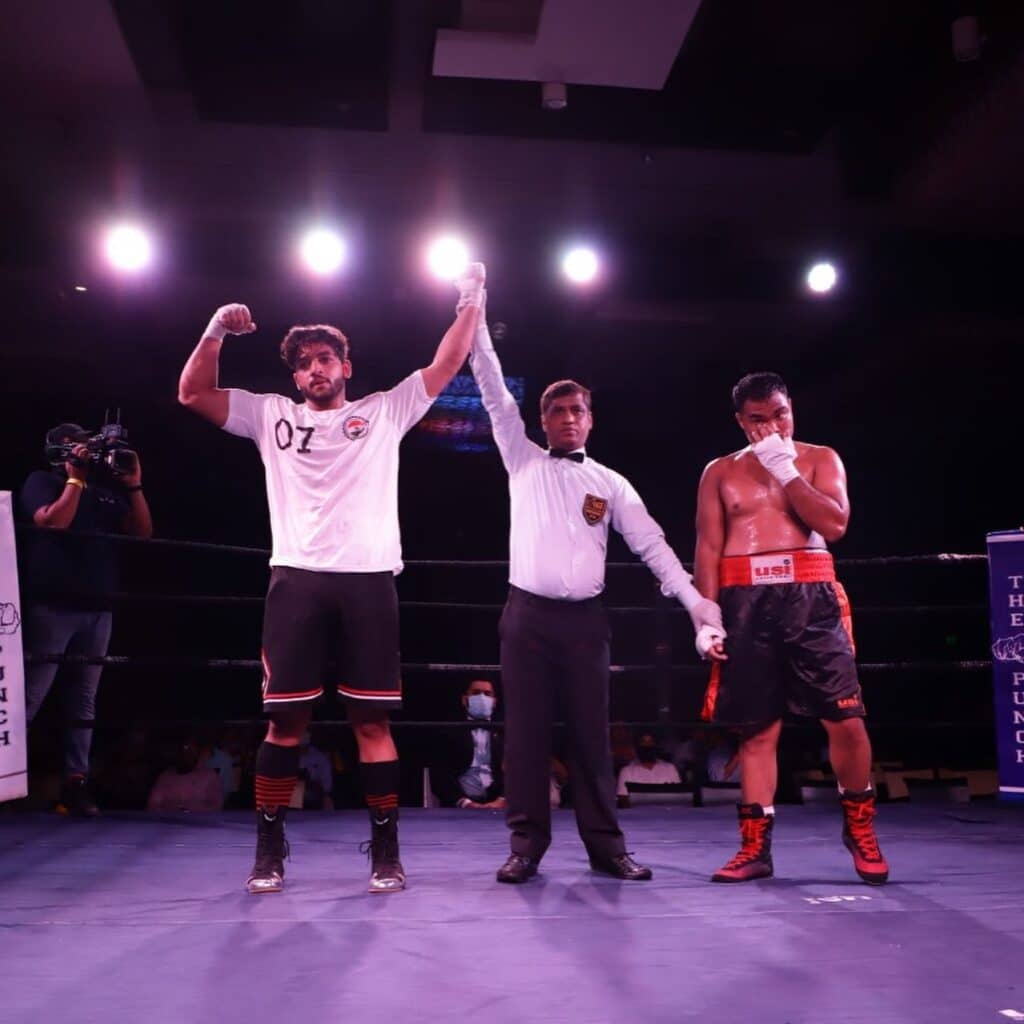 The 5th fight of the evening was in the Light Heavyweight division between Arun Sharma from Uttarakhand and Amit Rawat from Delhi.
20 year old Arun Sharma was fighting his 2nd Professional boxing fight. In his previous fight in March this year (At Punch Boxing 6), he lost to Chandigarh based Harsh Gill by a unanimous decision. Arun was looking to make amends for that loss. His opponent today was 22 year old Amit Rawat who had 3 consecutive losses in his previous 3 pro boxing fights.
Amit Rawat started the 1st round comfortably, he was leading the round with quick jabs that rocked Arun Sharma continuously. Sharma looked a little slow and sluggish in the first round while Amit Rawat looked nippy and fast in the opening exchanges of punches between the two boxers.
By Round 2 Arun picked up his aggression as well as his work rate of punches with combinations to Amit Rawat's torso and face. These punching combinations continued into the 3rd round and Amit Rawat did not have too much of reply in response of the aggression shown by Arun Sharma. Rawat desperately clung on in both rounds. However, a quick combination of punches in the last few seconds of the 3rd round caused Rawat to drop to his knees on the canvas. Referee Ajay Salvi, gave a knockdown count and Rawat barely got back to his feet by the 8th count. Rawat was saved by the bell.
The 4th round was a continuation of the story from Round 2 and 3. This time though, Sharma ensured that the round did not progress beyond the 1st minute. A flurry of punches from Sharma caught Rawat square on the jaw a couple of times, Rawat looked dazed and stunned, while Sharma continued throwing punches on Rawat who simply bent over forward all the while protecting his face and as ,much of the torso as possible to save himself from the combination punches. The Referee Ajay Salvi felt that he needed to intervene and stop the fight as he did not see much in terms of a fightback from Rawat. The fight was declared a TKO in the 4th round in favor of Arun Sharma.
BOUT 6: Sagar Narwat Vs Rahul Kumar
Super Welterweight – 8 Rds
WBC Asian Boxing Council Continental Super Welter Title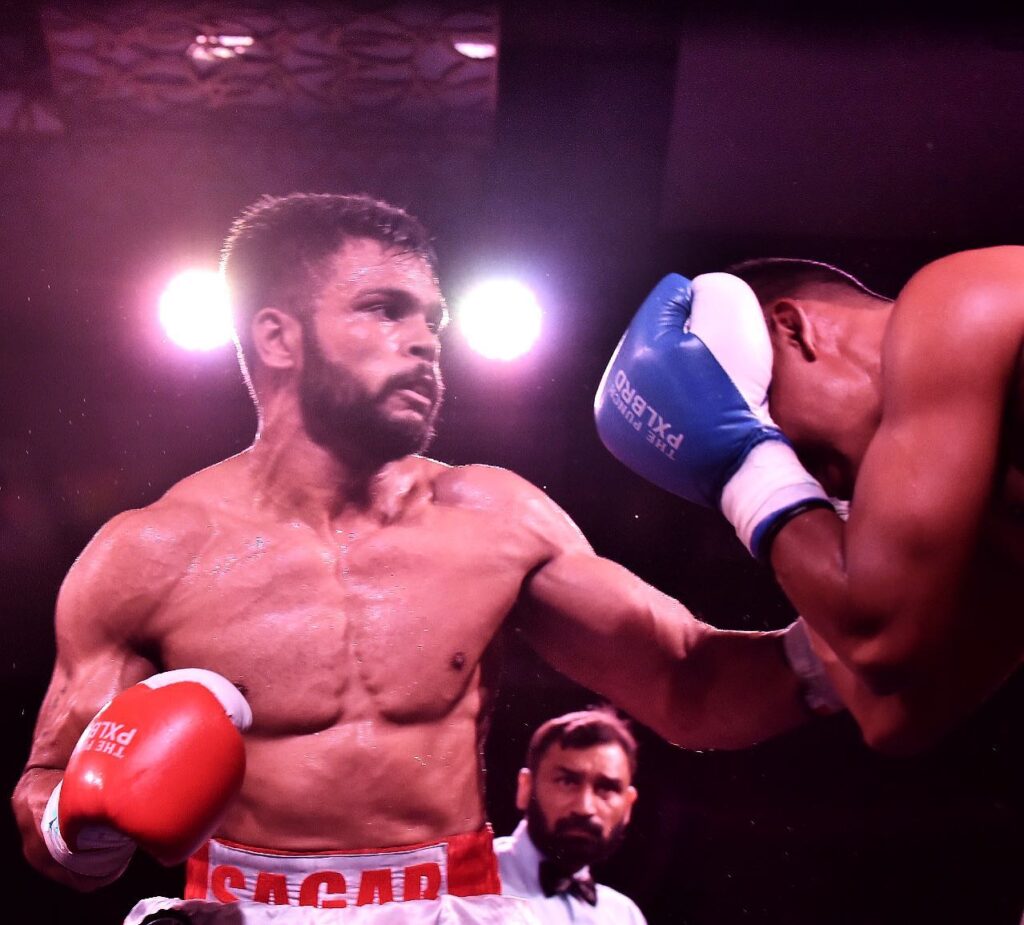 The main event of the night was a championship fight for the vacant WBC Asian Boxing Council's Continental title in the Super Welter Weight division. The 2 challengers for the honors were Faridabad based Sagar Narwat and Delhi based Rahul Kumar.
This fight turned into a classic and both boxers seemed to pull another level of their individual personas into this fight by the end of the 8th round.
Narwat outpunched Rahul with hard hooks and straight jabs all through the 8 rounds and Rahul was able to give back atleast a couple of quick counters everytime Narwat was retreating after an attack. The intensity did not drop even once during the entire 8 rounds and both men looked like warriors taking on each other in a battlefield.
All 3 judges scored  the bout in favour of Narwat and it was a good unanimous decision victory for Narwat to win the vacant WBC Asian Boxing Council Continental Super Welter weight title
For Full Round by Round Analysis of the fight click here
BOUT 7: Sachin Nautiyal Vs Kuldeep Singh
Welterweight – 4 Rounds
The 7th fight of the evening was a 4 round Welter weight contest between Delhi based southpaw Sachin Nautiyal against Kuldeep Singh.
The 19 year Nautiyal was fighting his 5th Pro Boxing fight and was unbeaten in his last 4, while 26 year old Kuldeep had suffered a loss and a draw in his 2 previous outings.
Nautiyal was taller and displayed good feet movement in the early seconds of the round. A combination of right and a left hook straight to the gut seemed to have knocked the wind out of Kuldeep who feel to the canvas holding his stomach and visibly in pain. Referee Satyakam Sharma gave the knockdown count, but Kuldeep gestured his intent to not continue any further.
Sachin Nautiyal won the fight with a KO decision in the 1st round.
BOUT 8: Ashish Sethi Vs Jalaluddin Sheikh
Super Middle – 4 Rounds
The 8th fight of the evening was a 4 round Super Middleweight contest between Ashish Sethi and Aghani boxer Jalaluddin Sheikh. Both boxers were making their professional boxing debuts.
Ashish Sethi was the aggressor throughout the 4 rounds and Jalaluddin barely held on after the initial onslaught from Sethi. All 3 judges scored all 4 rounds in favour of Ashish and he was declared the winner by Unanimous decision
BOUT 9: Harsh Gill Vs Amit Kumar
Heavyweight – 4 Rounds
The 9th and the final fight of the evening was a heavyweight contest between chandigarh based Harsh Gill and Delhi based Amit Kumar who was making his professional boxing debut
Gill was fighting his 5th Pro boxing fight of his career and was unbeaten in his last 4 fights. Amit was a replacement boxer who was included in the card only 24 hour prior to the show owing to covid related restrictions impacting the original boxer's arrival in India.
Kumar sustained a cut on the bridge of his nose early in the 1st round and the bout had to be stopped on 3 occasions by the Referee Suraj Thakur to contain the bleed. Doctor Sanjogita Soodan, Chairperson of the IBC Medical commission was the Ringside Doctor for the bout and cleared Kumar to continue fighting.
The bout in itself was a cagey affair with both boxers seemingly holding back from going all out in any of the rounds. Kumar was left to do all the defending and Gill was the more industrious of the 2 boxers with a few Jabs and upper cuts which cut through Kumar's solid defences. All the 4 rounds were won by Harsh Gill and the Judges scored a Unanimous decision in his favour.