Punch Boxing Fight series over the years has thrown up some really interesting matchups and the Co-Main Fight of the night was a 6 Round Light weight contest between 19 year old Pro Boxing veteran Chandni Mehra and 28 year old Pro Boxing novice Geeta Solanki fighting her 2nd Pro Fight..
Chandni was fighting her 9th pro Fight and prior to this fight boasted an enviable record of 7 Wins and 1 loss in her previous 8 outings in the ring. Her superior professional record and height advantage was expected to be crucial in this fight against Geeta Solanki
People who follow Indian Boxing have most definitely heard of Geeta Solanki. She has been a veteran in the Women's Amateur Circuit for over 11 years. For the uninitiated, Geeta was a Sr. National Silver Medallist at Thrissur in 2010 and 3 time Bronze medallist at the Women's Nationals between 2012 to 2015. She was adjudged the Best Looser in 2010 at Thrissur Nationals having lost her finals bout to 2016 Amateur World Championships Silver Medalist Sonia Lather in a close contest. Solanki was also adjudged the most promising Boxer at the Bhopal Nationals in 2011 again loosing her quarterfinal bout to Sonia Lather.
Chandni was aware that this wasn't going to be an easy fight. Unlike the past few fights wherein she went in as the favourite, she knew she was up against a far superior opponent in Solanki.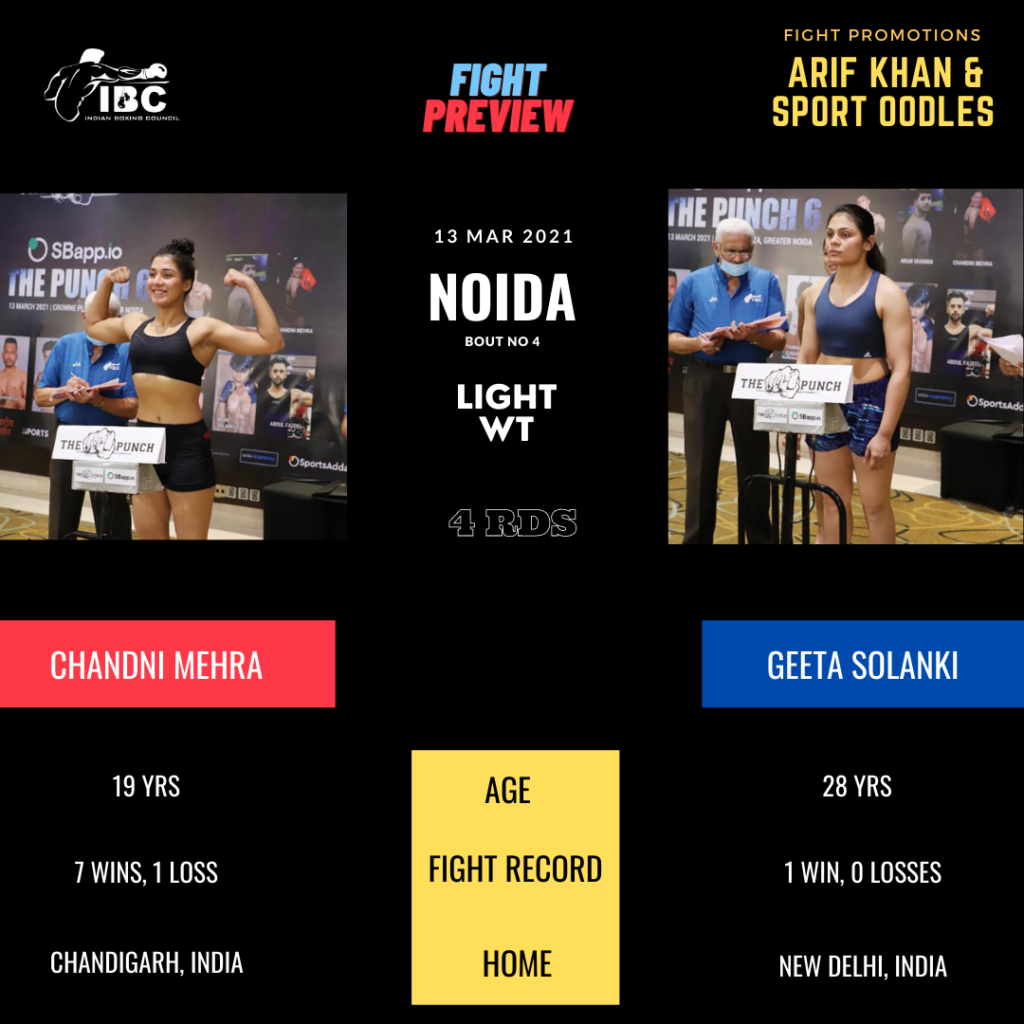 Round 1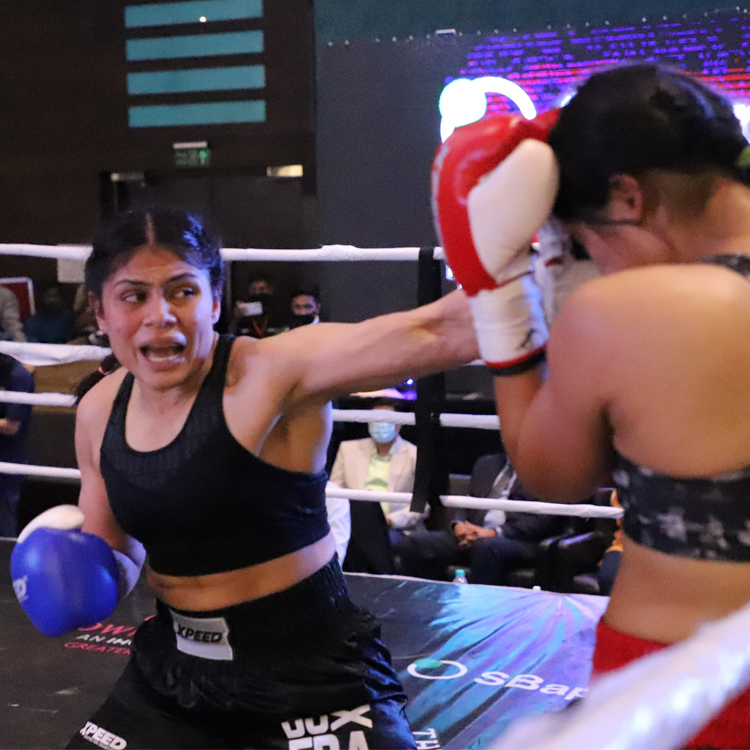 Geeta started the fight on the offensive and was able to land a few clear head shots that rocked Chandni back early in the first round. The gauntlet was clearly laid down. Chandni had a height advantage but realized that Geeta looked to charge her with combination hooks. She tried playing on the inside but Geeta's experience was too much for the 19 year old despite her longer professional career. All 3 judges score 10 – 9 in favour of Geeta Solanki.
Round 2
The 2nd round saw Chandni wanting to take advantage of her superior height, but Geeta was equally adept at waiting for Chandni to come in before landing counters to the head and body. All 3 Judges scored 10 – 9 in favour of Geeta.
Round 3
The 3rd Round witnessed both boxers change tactics again. Chandni wanted to go back to counter punches and invite Geeta to come in. Geeta took bait, but everytime she came in she was able to land powerful hooks to chandni's head before retreating back to a safe spot. Chandni was starting to get worried now and resorted to a few shoulder butts while in close contact. The Referee Bhushan Rao cautioned her against such tactics. All 3 Judges scored the round 10 – 9 in favour of Geeta Solanki.
Round 4
The 4th round was a cagey affair, with both boxers tiring and seemingly loosing balance. A lot of clinching and holding, with the Referee Bhushan Rao getting both Boxers to break on multiple occassions. All 3 Judges scored the round 10 – 9 in favour of Geeta
Round 5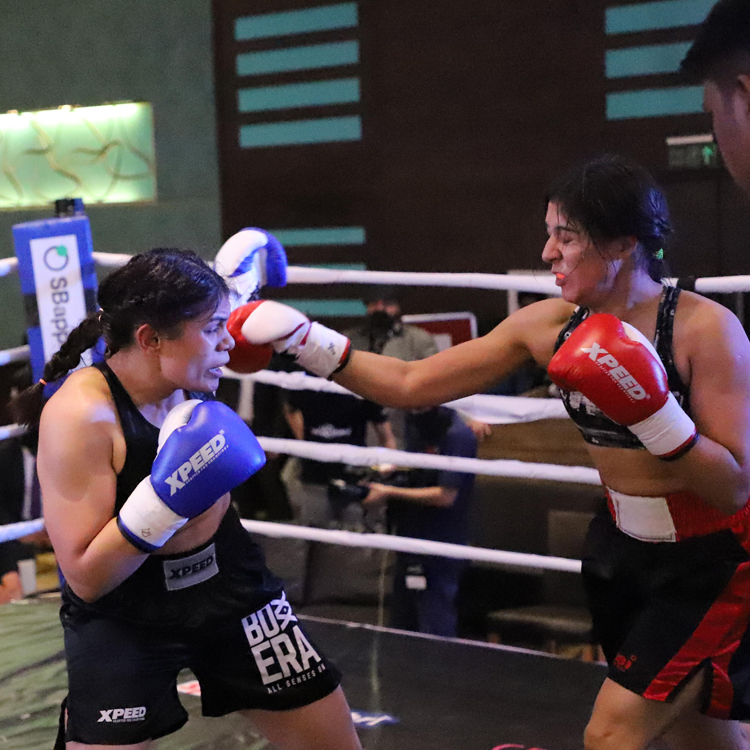 As per new rules introduced by the IBC, it is mandatory to declare scores at the end of the 4th round. It was then that Chandni realized she was behind on the cards and had to go all out to try and reverse the points decision. Geeta was happy to stay back and absorb everything that Chandni had to throw at her. 2 Judges scored the round in favour of Chandni and one Judge scored the round in favour of Geeta. By the end of the round Chandni knew that she had left it too late and she walked back to her corner with a sense of impending loss.
Round 6
The 6th Round was a repeat of the earlier round with Geeta happy to stay back and protect her lead. Chandni looked to be offensive, but seemed to have very little left in her tank to pull back from. While attempting to charge, Chandni was leaving her guard down and Geeta countered with combinations to the head. All 3 Judges scored the round in Favour of Geeta.
The fight went the distance and all 3 Judges had scored in favour of Geeta Solanki who won the bout by Unanimous Decision.
Chandni Mehra has a long career ahead of her and will be looking to bounce back from this loss. She would know that she faced a much more experienced boxer this time around. Geeta on the other hand needs to sign up with the right Boxing managers and Boxing Promoters to kick start her Professional Boxing career. A lot to look forward to for the Indian Boxing enthusiasts.