Punch Boxing 8 Pro Boxing Fight Night Promoted by Boxing Promoter Arif Khan and Sports Oodles at Crowne Plaza, Greater Noida on 09th Sep 2022
Key Fights :
– Harsh Gill Vs Sung Jin Kwak for WBC Asia Continental Title – Cruiserweight, 10 Rounds
 – Adil Rajesh Vs Keisham Luckyson Singh – Super Bantamweight, 8 Rds
 – Vijendra Kumar Vs Krishna Singh, Lt Heavyweight – 6 Rds
Noida, 08 Sep 2022 : Top Indian Cruiserweight boxer Harsh Gill will take on Sung Jin Kwak of Korea in a 10 round contest for the WBC Asia Continental Title in the cruiserweight division at Crowne Plaza, Greater Noida on 09 Sep 2022. The Weighin and Faceoff's were completed earlier today.
Gill, is the highest ranked Indian Boxer in the WBC India Pro Boxing Rankings in the Cruiserweight Division. (Check the latest WBC India Rankings here)
The title fight features as the main fight in the Pro Boxing event Punch Boxing Championships being organized by Boxing Promoter Arif Khan of Sports Oodles. This is the 8th edition of the fight series Punch Boxing Championships which was started back in 2016. ( Check Out Punch Boxing 7)
Harsh Gill Vs Sung Jin Kwak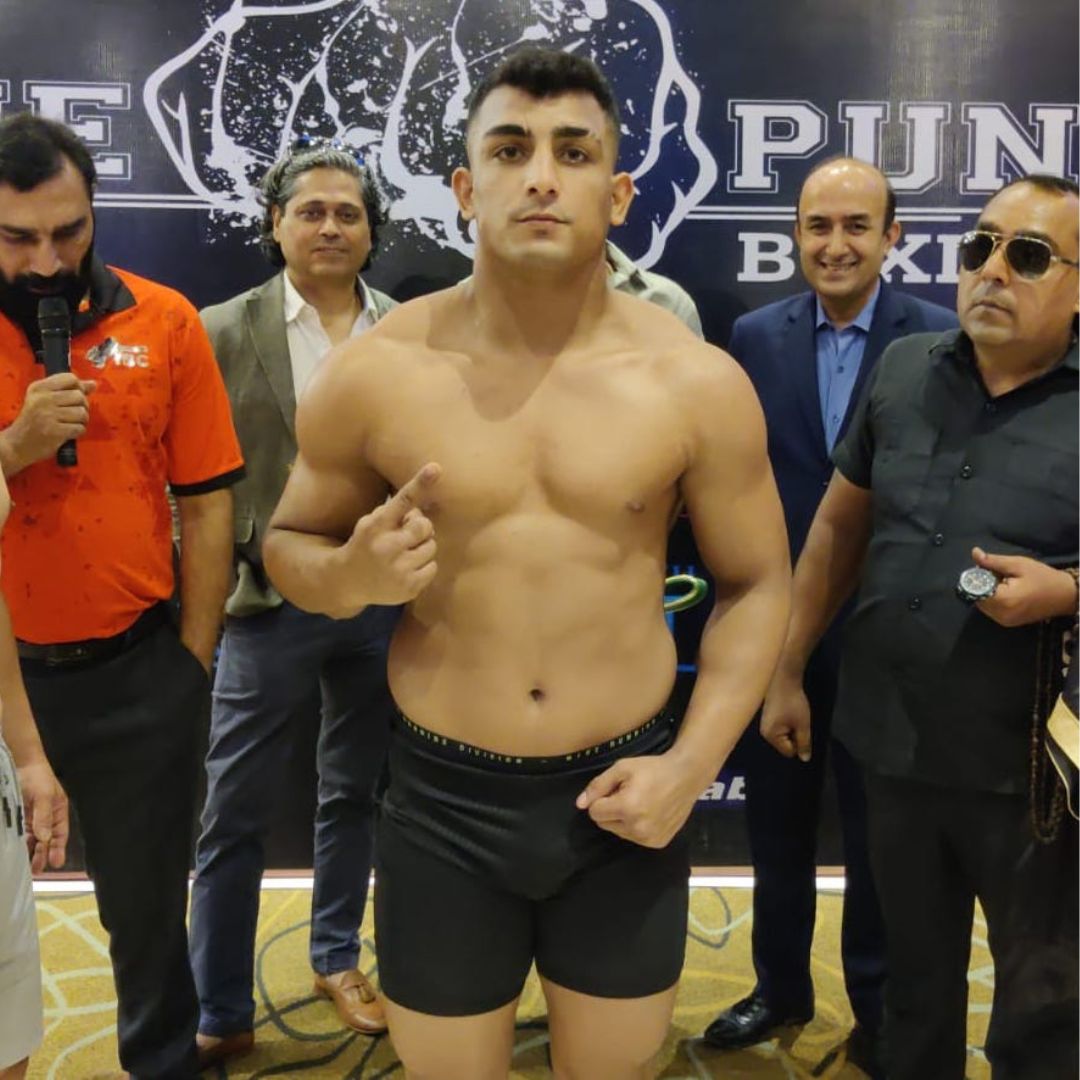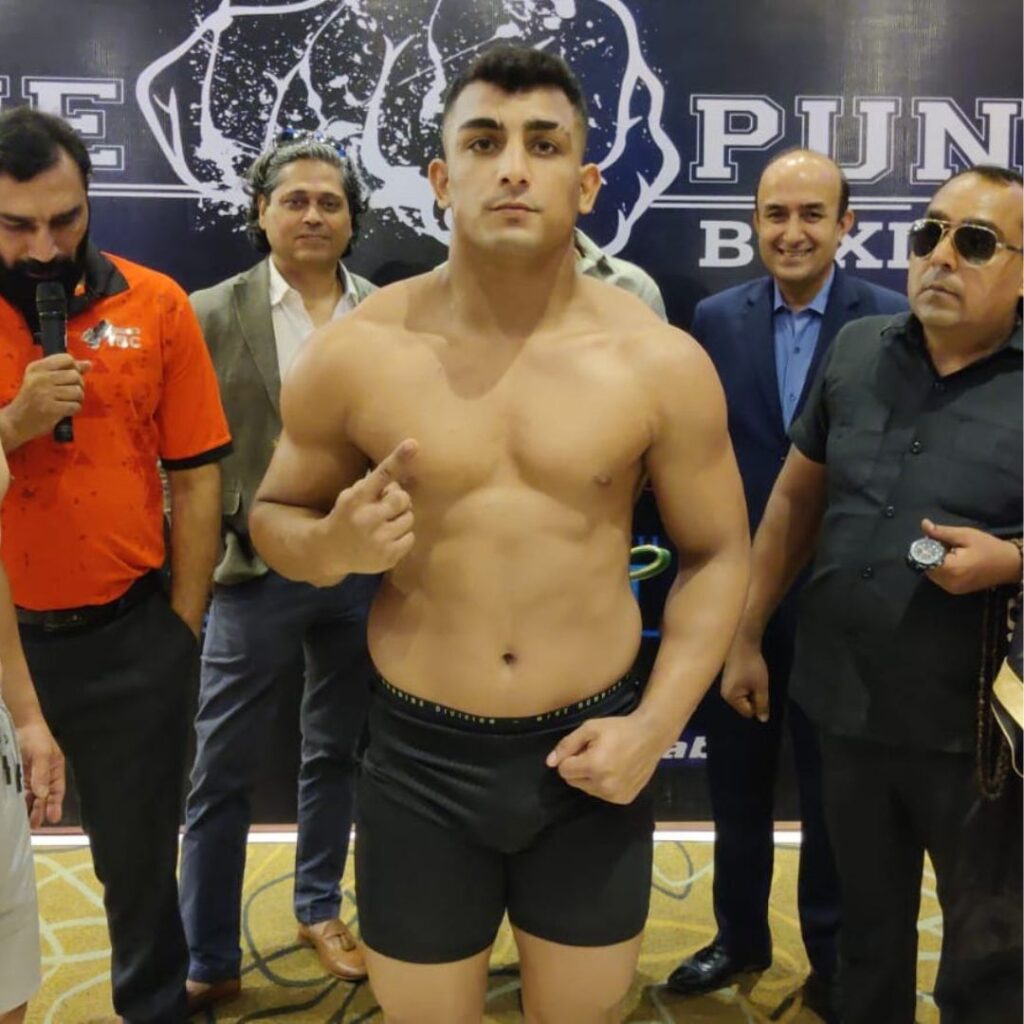 20 year-old Harsh Gill (7-0; 6 KO's), has had a good start in his Amateur career prior to making his pro debut in 2020.  He was a Bronze medallist at the Golden Gloves Vojvodina International tournament at Serbia in 2019. A bronze medal at the All India Open Nationals in 2018 followed a string of Gold medals at the Youth Nationals and School Nationals in the same year. The hard hitting Faridabad boy trains at the Dronacharya Boxing Club with former International Amateur boxer Rajiv Godara.
Gill's opponent, 44 year old Sung Jun Kwak, is the current reigning WBC Asia Silver champion. Kwak made his Pro debut quite late in his career in 2019. Prior to this contest, he has had 7 wins and 2 losses in the pro circuit. He turned heads when he defeated a much younger Thai boxer with a 4th round KO to win the WBC Asia Silver title in 2021.
This would be the first time that the Indian Boxer is attempting to compete in a 10 Round contest. Gill has won 6 of his 7 fights via Knockouts within the 4th round. Kwak on the other hand has had 2 previous fights scheduled for 10 rounds. That however, may not turn out to be an advantage as he won both those fights inside 6 Rounds via stoppage or a KO.
The fightcard features 10 other Fights including an 8 round Super Bantamweight contest between Adil Rajesh and Keisham Luckyson Singh. A win for either boxer in this contest would mean a significant jump in their fight profiles in terms of wins against quality  opponents.
Wt Cat
(Rds)
Red Corner

Blue Corner


Cruiser
(8 Rds)
Harsh Gill
(Won by TKO, 4th Rd)
WBC Asia Continental Title
Sung Jin Kwak
Super Bantam
(8 Rds)
Adil Rajesh
W
Keisham Luckyson
(Won by UD)
Cruiser
(4 Rds)
Chandru G
(Won by UD)
W
Sagar Kumar
Super Welter
(6 Rds)
Manish
(Won by TKO, 1st Rd)
W
Lenin Balusami
Lt Heavy
(6 Rds)
Vijendra Kumar
(Won by UD)
W
Krishna Singh
Lt Heavy
(6 Rds)
Arun Sharma
(Won by Majority Decision)
W
Praveen Singh
Middle
(4 Rds)
Yugandhar Tambat
L
C Lalduhawma
(Won by TKO 2nd Rd)
Super Fly
( 4 Rds)
Nikhil Raj
(Won by UD)
W
Yigesh Gurjar
Super Fly
(4 Rds)
Chandan Kashyap
(Draw)
Draw
Harish Singh
(Draw)
Super Light
(4 Rds)
Aryaman Srivastava
L
Abhishek Kumar
(Won by KO, 1st Rd)
Bantam
(4 Rds)
Pawan Kumar Arya
(Won by TKO, 2nd Rd)
W
Manu Sharma