Do you want to conduct a Pro Boxing show in India? Read on..
Boxing Event Intimation /Scheduling Form
We have compiled some guidelines to help you understand how to conduct a Pro Boxing show or a Boxing Fight Night in India with an amazing fight card that can attract sponsors, investors, broadcasters and most importantly spectators & Fans.
So, what is a Pro Boxing show and what is a Pro Boxing Fightcard?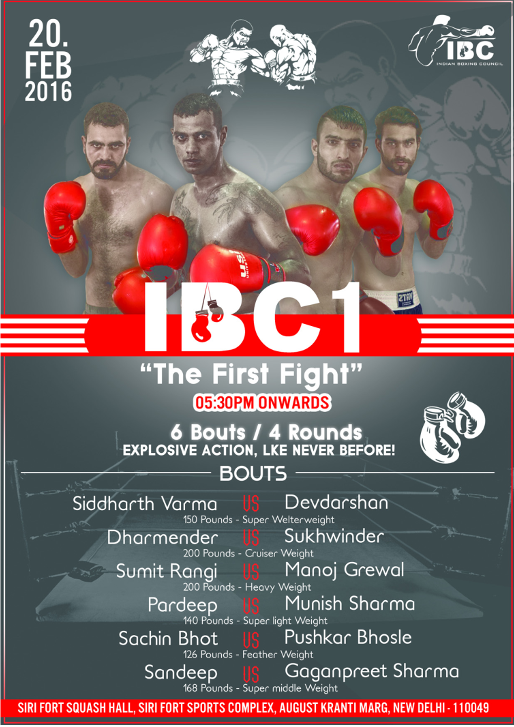 There is nothing more exciting for boxing fans than a great "Pro Boxing Fight-Night'.
As a boxer, promoter and most importantly, a fan of the sport, it is important that the fans enjoy an evening of good display of boxing.
There are several things to be kept in mind when you set up an entertaining and successful night of pro boxing.
Preparation of a fight card – The fight card is an itinerary of all the boxing matches that are to take place during one boxing event. A fight card usually contains 1 main boxing bout between 2 well known boxers and an undercard of other bouts with boxers who are new or upcoming in Pro Boxing.
Choose the correct boxing venue – It is also important to schedule the fight in location that fans can easily reach. The bouts should be scheduled in a city where the boxers are from or where there is a large community that will support the boxers. 
Maximum spectator Attendance – Fans are a great source of pride and encouragement in a young boxer's progression and hence the Boxing promoter should try to advertise the event so as to bring in as many spectators as possible for an event.
WHO ARE BOXING PROMOTERS & WHAT DO THEY DO?
A Boxing Promoter sets up the entire boxing show/ event. He/ She covers all of the expenses for their shows, including Boxer fees, Venue rentals, equipment costs, Administrative Fees , travel-boarding-lodging costs of officials & boxers etc.
Typically Professional Boxing promoters work with Boxing Managers and Trainers to identify boxers and set up boxing contests in their shows.
They advertise these boxing contests for maximum viewership through Television broadcasting, Ticket Sales, Online Digital distribution etc.
What are Title Fights in Pro Boxing?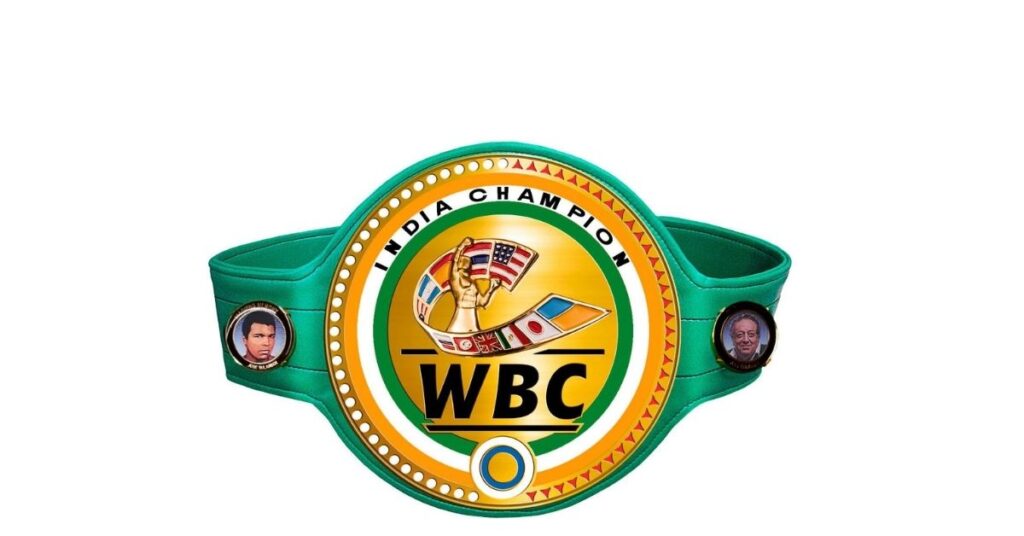 In boxing, a title belt is awarded to the champion of an individual weight division by a sanctioning body. Titles and Belts change hands when the sanctioning body approves a title fight, in which the champion takes on a challenger.
Global sanctioning bodies like the WBC, WBA & WBO award World Title Fights to boxers who are eligible to compete for their titles.
To be eligible to compete for a title fight, the boxer should feature in the Rankings list published periodically by these sanctioning bodies.
In India, male boxers compete in 18 weight divisions and Women boxers compete in 13 weight divisions. WBC India publishes ranking lists for Indian Boxers.
Click here to see the latest WBC India Rankings.
To compete for WBC India Titles, a boxer should feature in the WBC India rankings. You can see the complete WBC India Championship Procedures here.
Can I become a Boxing Promoter in India?
Yes you can apply to conduct and promote Professional Boxing events sanctioned by the Indian Boxing Council (IBC).
You could be an individual, a Boxing club/ Gym/ academy owner, a Sports Management Company, a Marketing Company, an Event Management Firm, a Night Club Owner, or even a Shopping Mall Management company.
To be able to conduct a Professional Boxing show, you should have these important areas covered
The Promoter of a Professional Boxing show should have a Boxing Promoter License from the IBC or be a registered boxing club with the Indian Boxing Council. Application Forms available at the end of this page.
All competing boxers should have a professional boxer license issued by the Indian Boxing Council (IBC). The Promoter of the show should have a fight promotions contract signed with each of the boxers on the show. You can download a sample fight promotions contract by clicking on the link here.
A fight card should have a minimum of 24 Rounds of Boxing, hence a boxing promoter should have at-least 6 confirmed bouts on the fight card.
Boxers who are making their professional boxing debut can fight a 4 round bout only.
The Boxing Promoter has to finalize a venue where a Boxing Ring ( 16 Ft X 16 Ft or 18 Ft X 18 Ft or 20 Ft X 20 Ft – measured inside the line of ropes) is placed and the event can be conducted safely by adhering to all rules and regulations of the Indian Boxing Council (IBC).
If you are an existing IBC Licensed Boxing Promoter or an IBC registered Boxing Club, you can submit an intimation of your event at-least 21 days before the scheduled date via an online event intimation application form (Available at the end of this page). You will be required to pay the event administrative sanction fee via a secure payment link at the time of submitting the event intimation.
Once your event intimation is registered, IBC will get back to you for the the probable fightcard. A separate form will be sent to you via email.
Next, IBC will intimate Professional Boxing Records organization Boxrec (www.boxrec.com) about your event. A boxrec administrative fee will need to be paid directly to Boxrec. An invoice with a payment link will be sent you by Boxrec for the same. If approved, the scheduled boxing event will be visible on the Boxrec Web Page (www.boxrec.com).
If all documentation and payments are complete, the IBC shall assign an IBC Fight Supervisor and nominate IBC Ring Officials who shall officiate on the date of your event.
IBC will attempt to assign IBC officials from your city or town as far as possible. If that is not feasible, the promoter will be required to provide economy Class round-trip ticket to the nominated officials. If the journey is less than 600 Kms, the promoter will be required to provide AC 2 Tier Fares to the officials. The promoter will also make adequate arrangements for meals and first-class hotel accommodation, ground transportation and other incidental expenses for the IBC Supervisor, Ring Officials, Ringside Doctors
SOME TERMS & CONDITIONS FOR THE BOXING PROMOTER
A. Boxing Promoter Obligations
Promoters must strictly comply with the IBC Code of Ethics, Professional Boxer Rights, IBC Technical Rules & the IBC Medical Handbook adopted by the IBC;
Promoters must pay the entire fees payable (Show Sanction, Officials Allowances) for every fightcard ;
Promoters shall be responsible to ensure the safety of all IBC Officials and IBC registered boxers on the fightcard, while they are working at the city or venue where the fight will be held;
Promoters must ensure the IBC's name and its logo will be printed on all the promotional advertisements, posters, programs and all pre-fight press conference;
Promoters shall be responsible to coordinate to ensure that the IBC sanctioned contest to be prior recognized and approved by the state or local agencies authorised to give permissions for the same.
ACTIVITY/ EVENT TIMELINE TO BE ADHERED TO BY THE PROMOTER
| Activity | Timeline |
| --- | --- |
| Event Intimation | 21 Days prior to event |
| Event details Submission - BOXERS, ID's BOXER DETAILS | 14 Days prior to event |
| Boxers & IBC Officials Arrival in city | 72 HRS - 48 Hrs prior to start of the event |
| IBC Medicals, Weighins & Rules Meetings | 36 -16 Hours before start of event |
| Face Off | 24 Hours prior to event |
| Submission of Event Pics & Raw Bout Videos by Promoter for Records updations at Boxrec | Immediately - 36 hrs after event |
EQUIPMENT, FURNITURE & FIXTURES REQUIREMENTS AT BOXING EVENT
Head
Detail
Quantity
Boxing Ring with Standard Accessories
16X16", 18X18", 20X20"
With all standard ring equipment with buckets and spitoons
All ropes to have separators.

1 nos
Boxing Gloves

UPTO WELTER WEIGHT : 8 ounce
SUPER WELTER TO HEAVY : 10 ounce

2 pairs per fight
(Eg: if 6 fights – 12 pairs)

Weighing machine
Industrial standard weighing machine with measurement in Kilograms

2 nos
(Face-off, Boxer Hotel)
Supervisor Table Equipment
Boxing Gong,
Wooden clapper, Time clock , Announcer mikes

1 each + mike : 2
Supervisor Table
Ht : 3 ft ; l : 6ft; w : 2 ft
2 Nos
Judges tables & chairs

High Chairs For judges to sit comfortably ringside while scoring the bouts

3 Nos
Chairs for IBC officials & ring seconds

Standard
10 Nos
Emergency ambulance

Fully equipped emergency response ambulance with 1 doctor, 2 paramedics and 1 stretcher
1 nos
Medical First Aid kit
Gloves, cotton, Guaze
Standard
B. Boxing Promoter Registration Fees
For the year 2021 – 2022, the Annual License fee for a Boxing Promoter is INR 5,000.
With an Annual License a boxing promoter can promote as many fight cards as needed in a calendar year.
A Promoter Boxing license is not transferable.
C. Fightcard Sanction Fees
A promoter or a boxing club owner intending to promote a show with the Technical support of IBC relies on IBC for the complete technical conduct of the event including conduct of Pre Bout Medicals, Weigh Ins, Result compilations and record distribution.
To this effort, a licensed promoter pays a fixed fight card sanction Fee for every pro boxing Fightcard or event.
A promoter takes responsibility of the following

Boxer Fees,
Officials Travel, Lodging & Boarding + Officiating Allowance
Venue Permissions & Venue fee – To Include 2 Changing Rooms, 1 Medical Room,
Fight card Marketing Costs, Sponsor Branding & Sponsor Management
Fight Card Event production – Sound, Light, Anchor, DJ, Photographer, Videographer
Furniture, Fixtures – Tables & Chairs
Security & Spectator Services
D. RULES REGARDING IBC OFFICIALS
A Typical Fight card will have the following 12 officials appointed.
Supervisor X 1, R&J's X 6, Ringside Doctor X 1, Local Inspectors X 4, Local gong operator X 1, Local Time Keeper X 1.
APPOINTMENT OF JUDGES AND REFEREES The Chairman Ring Officials Commission shall be responsible for appointing or approving judges and referees as ring officials for each contest.
CONDUCT OF RING OFFICIALS Ring officials at all IBC-sanctioned matches shall exercise their duties and responsibilities in accordance with the procedures and practices contained in the IBC Ring Officials Handbook and the IBC Code of Ethics. Every official appointed by the IBC shall be a member in good standing. Appointment as an official in an IBC- sanctioned contest is a privilege, not a right.
IBC SUPERVISORS The IBC shall be represented at all sanctioned contests by a Supervisor or Supervisors appointed by the IBC President. With respect to a bout, the IBC appointed Supervisor shall have the authority to make all decisions and take all actions necessary to interpret and enforce these Rules and Regulations and the IBC's rulings, subject only to review by the IBC President
IBC REPRESENTATIVES AT IBC BOUTS The IBC Supervisor shall supervise and tally the scoring of the judges after every round. The President of the IBC if present or his representative shall be provided seats near the ringside.
PROMOTERS' OBLIGATIONS FOR IBC REPRESENTATIVES' EXPENSES The promoter(s) of any IBC-sanctioned contest shall pay all expenses, including transportation, lodging, meals, and other incidental expenses, of all Ring officials, IBC Supervisor(s), Ringside Doctors, IBC Competition Officials. Any attendance by the IBC President or his designee at any IBC-sanctioned contest will be in an official capacity, and the promoter must pay all of the transportation, lodging, meals, and other incidental expenses for the IBC President or his designee to attend the event.
FEES FOR IBC OFFICIALS A schedule of minimum fees to be paid to Ring officials, Ringside Doctors, Supervisor, IBC Competition Officials and Chairpersons of Commissions (when they attend) will be designated by the IBC from time to time, and the promoter must pay the total amount of such fees to the Supervisor. The payment of fees to all the officials must be made directly by the IBC Supervisor on receipt of the same from the promoter.
Please note that any claims, appeals, disciplinary procedures have to strictly adhere to the rules and regulations governing such procedures. Click here to read the Claims, Appeals & Disciplinary Procedures.
License Application Forms & Event Scheduling
You can access all relevant application forms here