Boxing Match Report from the Professional Boxing Fight night promoted by Boxing Promoter Mujtaba Kamal and Grassroot Boxing at Bengaluru on 13 Aug 2021
Show highlights
1st Pro Boxing Event in India after Covid Lockdown in India from Mar 2021 to August 2021.
9 Fights and 11 Boxers make their professional Boxing Debut
Former Amateur National Silver medalist Manikandan V makes Professional Debut with a Unanimous Decision victory
Sabari J, SK Saheb, Gurpreet Singh and Rakesh Krishnan win by TKO's
Super Welter WT
4 Rds
A Sivareddy
(Win By UD, 4 Rds)
Philip Devapriyan
Super Welter WT
4 Rds
Harsh Purohit
(Split Draw)
Rohit
(Split Draw)
Super Bantam WT
4 Rds
Sahil Kumar

Manikandan V
(Win By UD, 4 Rds)
Feather WT
4 Rds
Sandeep Singh Bhatti
(Win By UD, 4 Rds)
Sandeep Singh
Super Light WT
4 Rds
SK Saheb
(Win By TKO, 2nd Rd)
Vikas
Welter WT
4 Rds
Sabari J
(Win By TKO, 1st Rd)
R Bharanidhar
Super Light WT
4 Rds
Rakesh Krishnan
(Win By TKO, 2nd Rd)
R Gautham
Welter WT
4 Rds
Gurpreet Singh
(WIn By TKO 2nd Rd)

Shivamadhesh J
Super Welter WT
4 rds
Abhishek S
Ponsuriyan Sathiyan
(Win By TKO, 2nd Round)
Cruiser WT
4 Rds
Vaibhav Shetty
(Win By RTD 2nd Rd)
Hariprasad

Bout 1 : A Siva Reddy Vs Philip Devapriyan S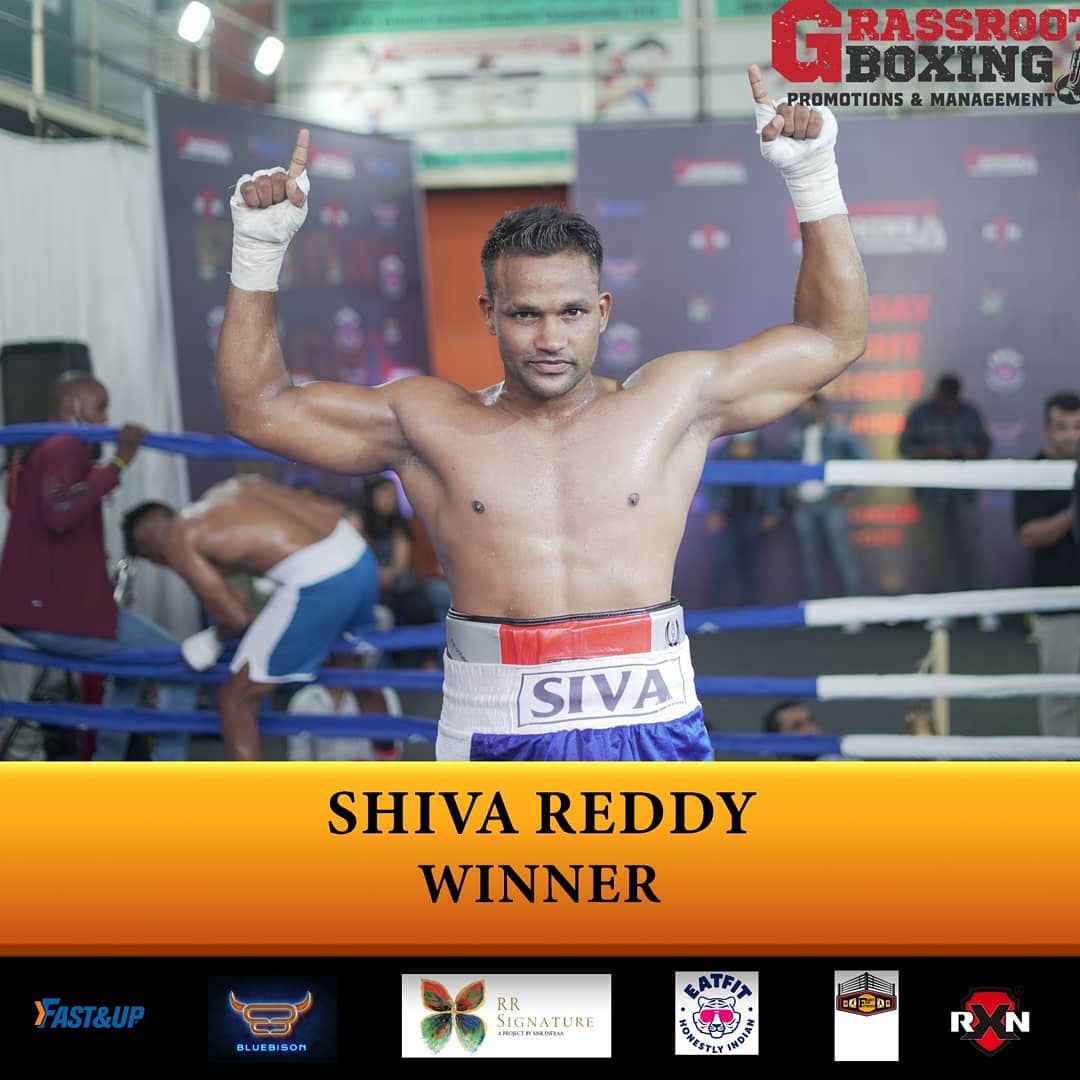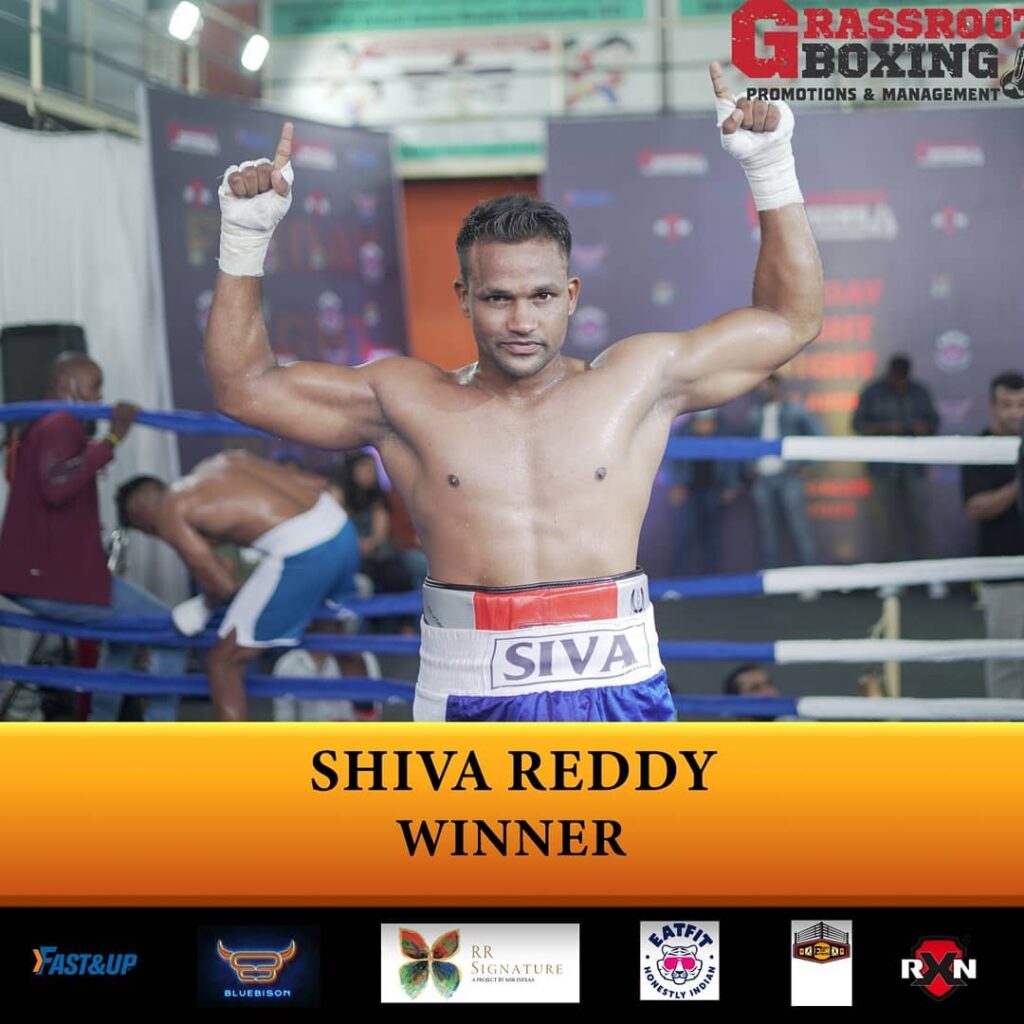 The first fight of the evening was a Super Welterweight contest between 26-year-old southpaw boxer A Siva Reddy from Andhra against 27-year-old Philip Devapriyan from Bengaluru.
Siva Reddy was fighting from the Red corner had a previous record of 2 losses in his previous 2 outings. It was interesting to note that Siva Reddy had dropped weight categories to fight in the Super Welter weight division. In his previous 2 outings he had fought in the Middle Weight division. Phillip was at least a couple of inches taller than Sivareddy and would have hoped to take advantage of the height difference.
The first 2 rounds were quite comfortable for Sivareddy and neither boxer exerted too much. The crowd around the ring was vociferous in their support for Siva Reddy and the Referee Md Ali had to pause the contest on more than a few occasions to get the crowd to step back from the Ring Apron.
By the 3rd round Philip must have understood that he had a lot more to do if he had any hope of winning this contest. Philip started being a lot more aggressive which allowed Siva Reddy to simply step backwards and keep countering with good combinations.
Despite his height advantage Phillip kept lunging into each of his punches which allowed Sivareddy to simply stay out of reach and counter when he saw an unbalanced Phillip.
At the end, all 3 judges were unanimous in giving their points in favour of the southpaw from Andhra Pradesh. A much needed win for A Sivareddy.
Bout 2 Harsh Purohit Vs Rohit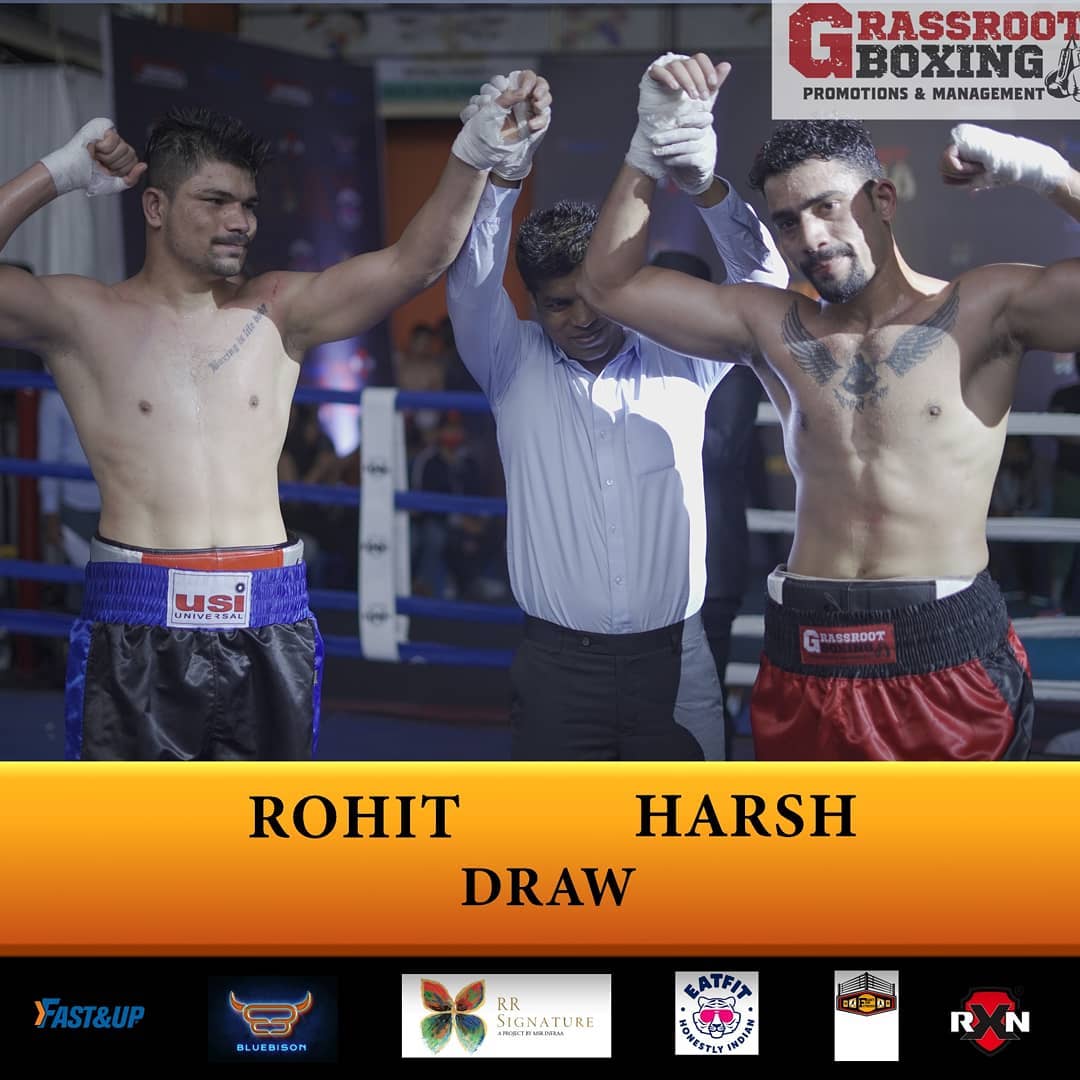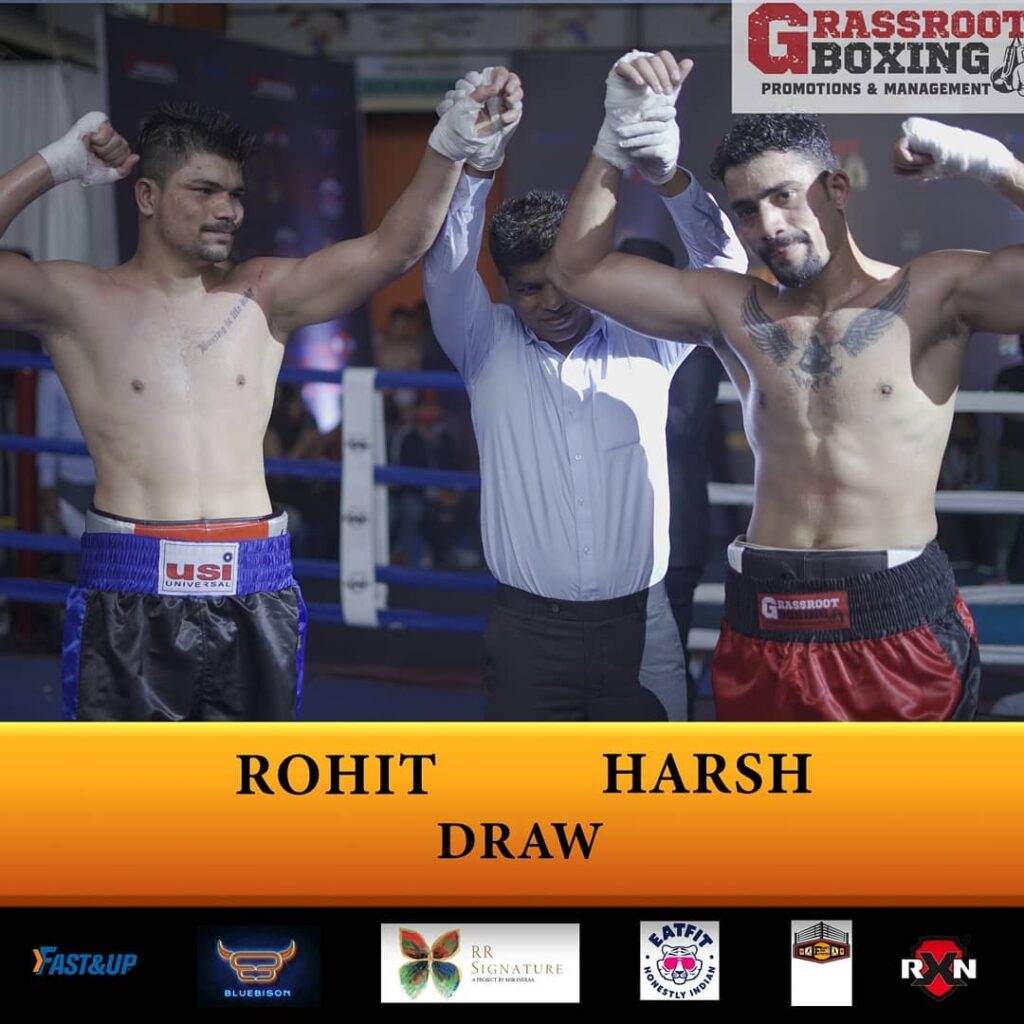 The 2nd fight was again a Super welterweight contest that ended up as close as it could get in Boxing.
27 year old Harsh Purohit was making a comeback into the ring after a gap of almost 2 years. In his last 2 pro bouts he had lost by TKO's against 2 very strong Kazhakstani Middleweight boxers Abay Tolesh and Saparbay Aidarov. Harsh was also dropping weight in this contest to fight in the Super welterweight division.
His opponent Rohit, was coming into this fight on the back of a good win over G Murali Krishna in his last fight in January 2020. 25 year old Rohit hailing from Gurdaspur had previously fought in the Welter weight division.
The fight did not disappoint. All 4 rounds were very close to call and the boxing judges did a great job in adjudicating the fight.
The first round saw Harsh Purohit marginally dominating Rohit with good footwork and ring control. The southpaw stance from Purohit would have made it difficult for Rohit to connect any meaningful blows.
The 2nd round saw Purohit more in control and a lot of serious blows were partaken between the boxers.
By the 3rd round Harsh Purohit was looking really tired and fatigued. Rohit looked a little more composed, however, Rohit was still not able to take advantage despite being egged on by the crowd to go for the win.
The 4th round was a clear extension of the proceedings from the 3rd round. Rohit was now completely dominant and Harsh Purohit barely held on till the end of the fight.
At the end a Split Draw was a fair assessment of the bout. Judge 1 Ashutosh scored the fight in favour of Harsh Purohit, Judge 2 Md Ali scored the fight in favour of Rohit and Judge 3, Sanjay scored the fight a draw.
Bout 3 Sahil Rahman VS Manikandan V
The 3rd fight of the evening was a Super Bantam weight contest between 2 professional Boxing Debutantes Sahil Rahman from Chikballapur, Karnataka against 27 year old Manikandan Venugopal from Tamil Nadu.
Manikandan was a former Amateur Nationals Silver medalist in 2011 at Karaikudi and a Junior National Gold Medalist in 2010. After a good amateur career with the Indian Railways he was making a debut in the professional circuit.
Anybody, who has followed Manikandan's career in the Amateurs would have known that the boy had a lot of talent and could have gone very far. As a 19 year old fighting in his first Senior Nationals at Karaikudi in 2011 he went on to defeat 2 former National Champions in the extremely tough Bantamweight division before succumbing to Shiva Thapa in the finals and settling for a silver medal.
Sahil Rahman had his work cut out, he was a facing an extremely talented and much more experienced opponent in Manikandan.
The first round got off a good start with good footwork and smart combinations from Manikandan. There was very little that Sahil Rahman could do other than keep his down and defend. Manikandan seemed to want to go for the KO but it just wasn't happening. Rahman took a lot of punishment but held on for all the 4 rounds.
At the end it was a very comfortable Unanimous decision victory for Manikandan. But he would be aware that an opportunity to start with a KO in his record was lost here today. Whatever Rahman lacked in terms of technical ability he made up with his heart to continue fighting against much superior opponent.
The 4th fight of the evening a super light weigh contest between experienced professional boxer SK Saheb against 25 year old debutante Vikas from Udupi, Karnataka.
Kolkata born SK Saheb was fighting his 6th Pro fight and had a good record of 2 Wins and 3 losses prior to this bout.
Vikas started the fight brightly with some very good footwork and change in guard from a Southpaw to orthodox on more than a few occasions. This was probably to throw SK Saheb off guard. It did not help matters that Vikas was at-least a foot shorter than Saheb and had to stay away from Saheb's reach as far as possible. There was very little in terms of actual punches throw in the first round
The 2nd round would prove to be more decisive for Saheb who looked to finish of the fight early in the 2nd round. A quick combination to the body saw Vikas being knocked down in the first minute of the round. Referee, Kevin gave the mandatory 8 count after which Vikas signalled his intent to continue. It wasn't to last long, a few seconds further into the round saw a hard right from Saheb land heavily on Vikas. Vikas collapsed onto the canvas and quickly got up. The referee thought it was a slip and signaled the same to the knockdown judge and Supervisor.However, Vikas was a little groggy after getting up and the Referee immediately rightly signaled for a stoppage of the bout.
A TKO in the 2nd round stopped the fight in favour of SK Saheb.
Bout 5 Sabari J Vs R Bharanidhar
The 5th fight of the evening was a Welter weight contest between Chennai based Sabari J against Bharanidhar from Madurai, Tamil Nadu.
Sabari was fighting his 4th Pro fight with a record of 2 wins and 1 loss in his previous 3 outings in the ring, while Bharani was making his professional boxing Debut.
Sabari started the first round with a lot of aggression and good work rate. He didn't waste any time in establishing his dominance. By the 2nd minute of the round, it was evident that Bharanidhar wasn't inclined to fight back at all. The referee was able to see this and rightly stopped in the fight declared it as a Technical KO.
A TKO in the 1st Round in favour of Sabari gave a rude welcome to Bharanidhar.
Bout 6 Rakesh Krishnan Vs R Gautham
The 6th fight was a 4 round Super lightweight contest between Rakesh Krishnan and R Gautham. Both Bengaluru based boxers.
29 year old Krishnan was fighting his 4th Pro fight and was desperately looking for a win while 18 year old Gautham was making his professional boxing debut.
Krishnan lost his last fight by TKO against Vanlalawmpuia at Aizawl in the undercard of Tlau Vs Eric Quarm WBC Youth World title in March early this year.
This was a walk in the park for Krishnan, he was taller and faster than Gautham in addition to being far more experienced. A mismatch of sorts.
Referee Ashutosh gave a knockdown mandatory 8 count in the very first minute of the first round. Gautham somehow held onto complete the round. 2
In the end it was a first win for Krishnan in the pro circuit. A TKO in the 2nd round.
Bout 7 Gurpreet Singh Vs Shivmadhesh
The 7th fight of the night was a 4 round welterweight contest between 22 year old Gurpreet Singh and 29 year old debutante Shivmadhesh.
Prior to the fight Gurpreet had a record of 3 Wins and 1 draw. The draw came in his last fight against Rakesh Lohchab at Mumbai in 2019. This was Gurpreet's first fight in over 2 years.
Round 1 was completely dominated by Gurpreet who was throwing good hooks and combination punches at will.
Referee Kevin had seen enough and stopped the fight midway through the 2nd round and declared it as a TKO in favour of Gurpreet.
Bout 8 – Abhishek S Vs Ponsuriyan Sathiyan
The 8th fight was a Super welter weight contest between debutante boxers. 24 year old Abhishek from Karnataka was taking on boxer Ponsuriyan Sathiyan from Krishnagiri, Tamil Nadu.
This was an evenly matched fight. Abhishek clearly won the first round and landed a lot of good jabs and straight punches. Sathiyan was in no mood to give up though.
By the 2nd round, Abhishek seemed to be in some sort of a discomfort and was signaling the referee to stop the contest.
The fight was declared a TKO in favour of Sathiyan. This fight could have gone either way with all 3 judges scoring the fight in favour of each boxer in both the completed rounds
Bout 9 – Vaibhav Vaman Shetty Vs Hariprasad R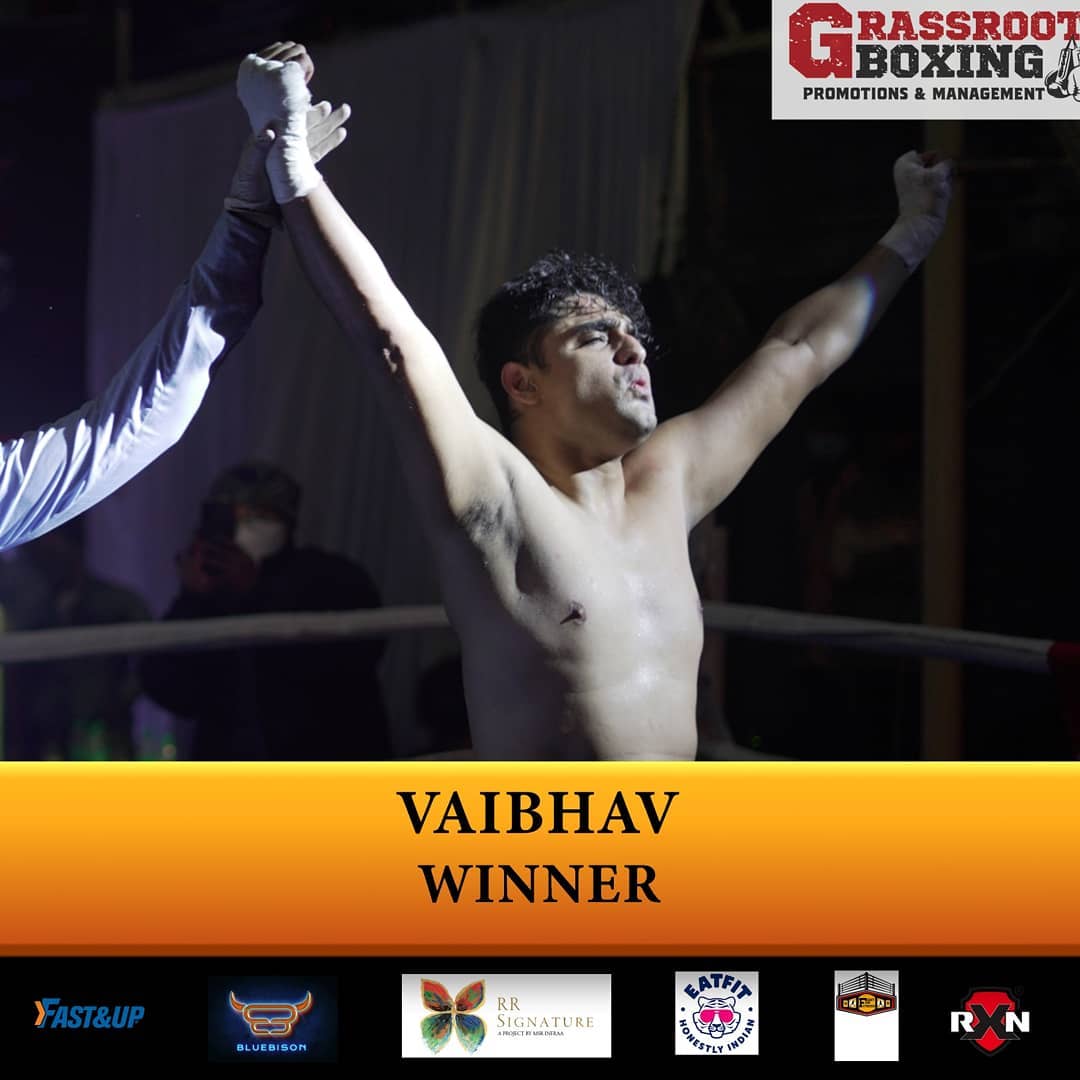 The 9th fight was a cruiser weight contest between debutante Vaibhav Shetty against 27 year old Hariprasad from Karnataka.
Round 1 – Both boxers were well matched and went at each other from the get go. Vaibhav Shetty had a better technique with some good Jabs and straight rights. A lot of his punches were piercing through Hariprasad's defences. Shetty was a lot more balanced and controlled in his footwork and defence. All 3 Judges scored the first round in favour of Vaibhav Shetty
Hariprasad changed his attack strategy and upped in his work rate significantly in the 2nd round. Prasad was attempting play closer to Shetty with Jabs and trying to follow it up with a thunderous Right hook that never came. Shetty's guard was up and he kept throwing quick counters with his straight punches. After a minute into the 2nd round, Hariprasad went on the attack and a few good lusty hooks landed heavily on Shetty. The onslaught however did not last much longer, Shetty was able to fight his way back and he himself started landing heavy blows on Hariprasad. Possibly, Hariprasad had taken enough and signaled to the referee that he did not want to continue. The referee Md Ali promptly called an end to the fight and declared a TKO in favour of Vaibhav Shetty.
This was a first win for the 36 year old Cruiser weight Pro Boxing debutante, Vaibhav Shetty from Bengaluru.