SHOW HIGHLIGHTS
BOUT 1 – ROHIT VS HC LALRAMFELA
The first fight of the evening was a 4 Round Welter Weight contest between 19 year old Haryana Boxer Rohit against 25 year old Mizo HC Lalramfela. Lalramfela was making his Professional Boxing debut while Rohit was coming into this fight in the back of 2 losses in his previous 2 outings.
Shorter of the 2 boxers, Lalramfela was aggressive from the get go. Rohit had little answer to the lunging southpaw from Mizoram, who threw hooks and straight punches almost at will.
It was evident throughout the fight that Lalramfela recognized his height disadvantage against the taller Rohit. This prompted him to always look to fight close with sharp hooks to Rohit's body and combination punches to the face when Rohit dropped his hands to protect himself.
He looked to work Rohit in short 5 second bursts of combinations and then pull back to catch his breath.
All 3 judges scored in favour of HC Lalramfela, who was declared the winner with a Unanimous Decision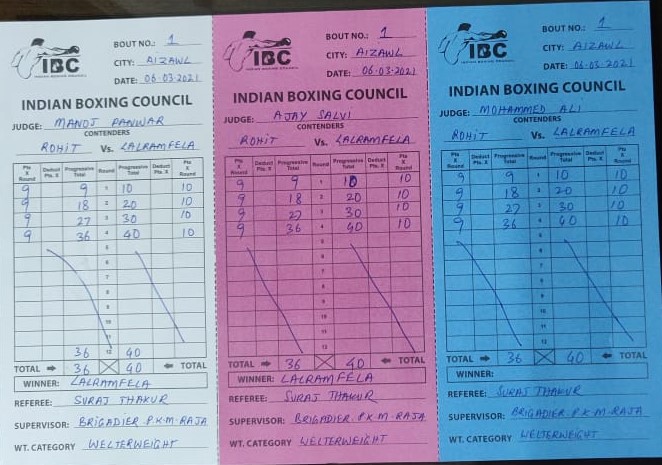 BOUT 2 – ASAD ASIF KHAN VS NABAB SINGH
The fight in the Feather Weight division was the 2nd fight of the evening in the Undercard of WBC Youth World Title Fight between Eric Quarm & Lalrinsanga Tlau.
A product of the famed Kidderpore Boxing Club in Kolkata, Asad continued his winning streak which has lasted more than 2 years now.
The fight was always expected to go Asad's way, with his opponent Nabab Singh coming into this fight as a last minute replacement fighter.
Nabab started the fight brightly with a few quick jabs to rock Asad back and surprise him in the 1st round. Realizing that the fight may not be a cakewalk that everyone expected, Asad quickly got down to business with a lot more urgency and quick hooks and cuts to the body of Nabab. The fight completely shifted to the corners and ropes with Nabab haplessly pinned against the raining blows from Asad.
By the 2nd round, Asad was in complete control and it was only a matter of time before Nabab would give up. The Mizo crowd in attendance at the venue was quick to recognize Asad's quality and willed him to go for a Knock Out by the 3rd round.
Referee Md. Ali intervened in the early seconds of the 3rd Round and called the fight in favour of Asad.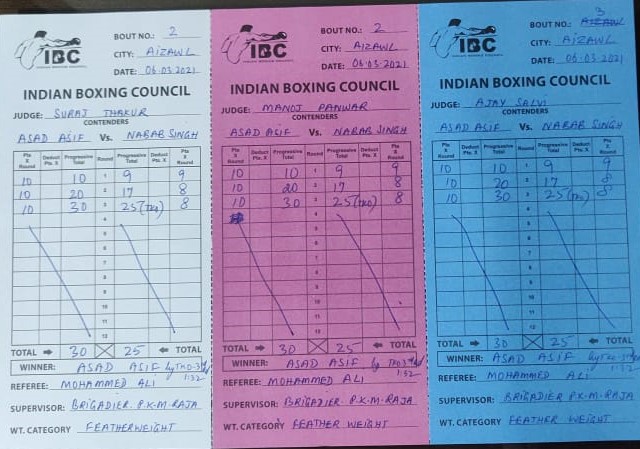 BOUT 3 – RAKESH KUMAR VS VANLALAWMPUIA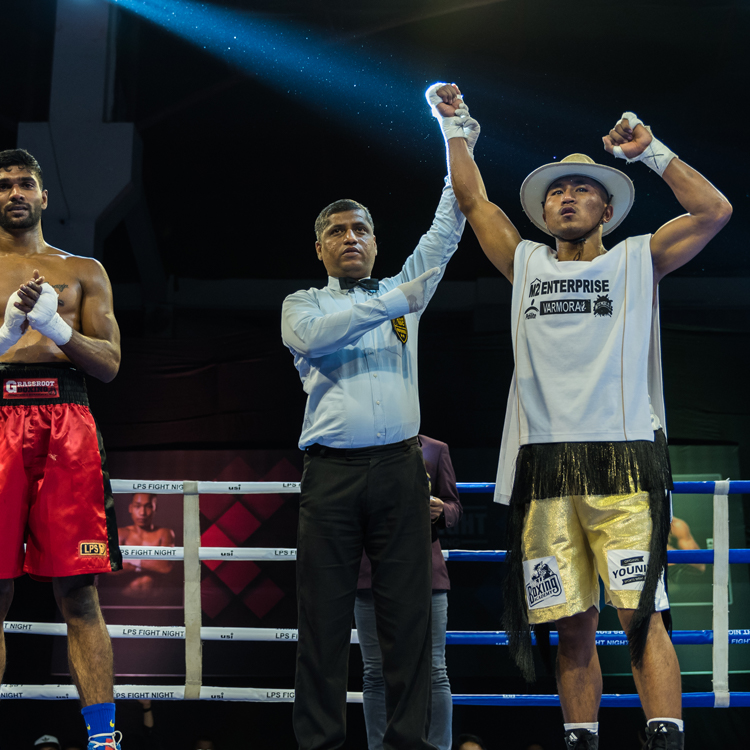 The 3rd Fight of the evening was a 6 round Super Light Weight Contest between Rakesh Krishnan from Bengaluru against Vanlalawmpuia from Mizoram.
Both Boxers were fighting their 2nd Pro Fights of their career. Rakesh had lost his previous fight in Novemeber 2020 against Sabari in a 4 Round Unanimous Decision, while Vanlalawmpuia was coming into this fight on the back of a TKO in January this year at Mumbai.
Rakesh started the fight brightly and was able to land some quick Jabs and Straight Punches on Vanlalawmpuia. But he was aware that Vanlalawmpuia was an extremely powerful puncher. Rakesh looked to avoid a lot of Vanlal's hooks with some really quick feet and ducking. He actually walked into a couple of straight punches from Vanlal. A quick right hook at the end of Round 1 almost caught Rakesh on his chin, but he was able to deflect a lot of the power from the punch by leaning onto the ropes and tripping over. All the ducking and swinging in the first round seemed to have taken a toll on Rakesh, who was already looking tired by the end of the 1st Round
By Round 2, Rakesh was able to land a couple of hooks to Vanlal's face, but the punches lacked any real sting. Vanlal's counters on the other hand were very powerful and Rakesh was taking a lot of blows to the body.
Round 3 started with Vanlal landing some really strong Left Hooks to Rakesh's chin and he was clearly stung hard. Round 4 had a similar start. Realizing that Vanlal may be just too strong form him, Rakesh started baiting Vanlal with an open stance and no guard. Vanlal took the opportunity and landed a hard left hook that dropped Rakesh to the Floor. It was now only a matter of time before the fight had to be stopped. Referee Ajay Salvi had seen enough and called the fight in favour of Vanlal.
Vanlalawmpuia won the fight by TKO in 4th Round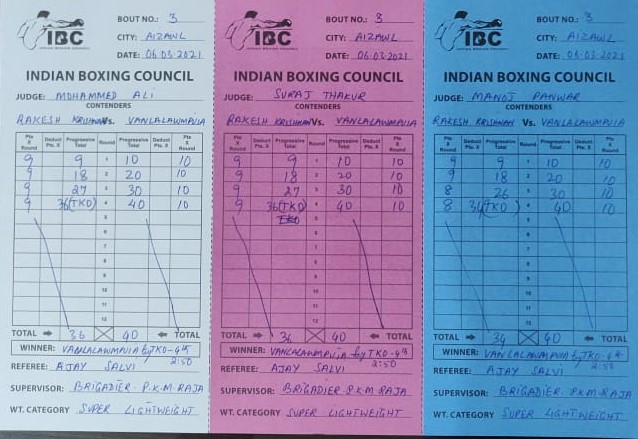 BOUT 4 – MAZHAR HUSSAIN VS F ZORAMCHHANA
The 6th fight of the evening was a 6 Round contest between Mazhar Hussain from Kolkata against F Zoramchanna from Mizoram.
Prior to this fight, 29 year old Mazhar had a Pro Record of 2 Wins and no losses while 21 year old Zoramchhana was making his Pro Debut
Zoramchhana was not only quick and agile in his movements, but all 6 rounds were a display of sheer talent from the young Mizo. He seemed always ready to throw a left hook when Mazhar dropped his hands in preparation for his own punch. This approach was carried throughout the 4 rounds. Zoramchhana's punches were not only and lightning quick but they also carried a lot of power.
Mazhar himself is no mug in the ring, he was able to land a few counters every round, but the Mizo had complete control of the ring and the pace of the all 6 rounds.
All 6 Rounds went to the Mizo and all 3 Judges ruled Unanimously in favour of Zoramchhana.
Zoramchhana Wins by Unanimous Decision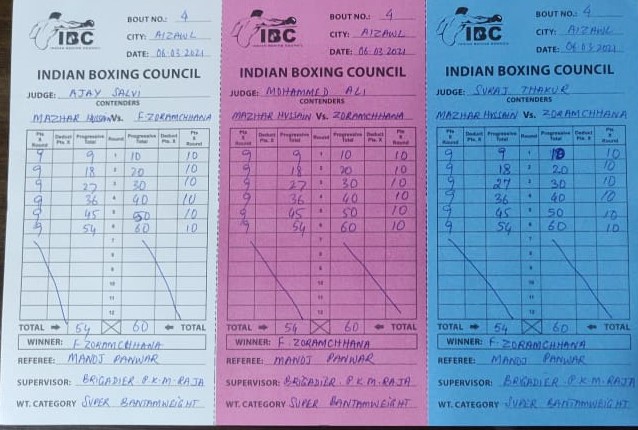 BOUT 5 – JOSEPH EMMANUEL VS LALHRUIATLUANGA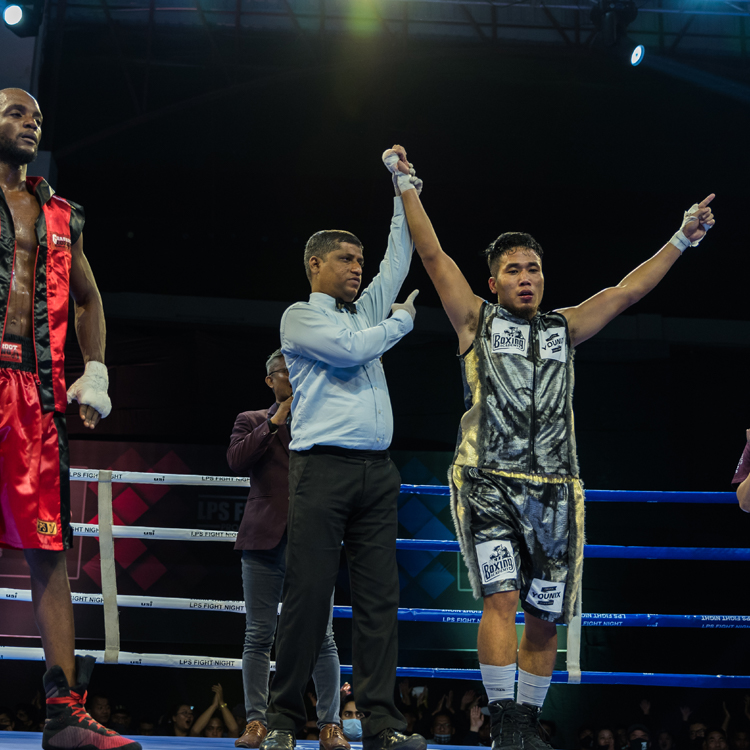 The 5th fight of the evening was a 6 Round Super Welter Weight contest between Joseph Emmanuel of Congo against 23 year old debutante Lalhruaitluanga from Mizoram.
Joseph came into the fight with a Professional Boxing Record of 2 wins and 1 loss.
Both boxers started out slow in the early rounds, probably assessing the fight strategy of the opponent. Lalhruiatluanga was always looking to move forward and control the pace of the fight, while Joseph was happy to sit back and wait for the counter.
A lot of the bout was fought with Joseph backed up against the ropes. Joseph was Ducking, Swinging and swaying the hard hooks being thrown by Lalhruiatluanga and occasionaly throwing a counter when pushed to the corners.
At the end of the 4th round the scores were mandatorily declared to the corners and Joseph realised that he had a lot of catching up to do, if he was to win this fight. He tried to go on the offensive early in the 4th round. However, the Mizo boxer was equally good at quick counters and great footwork to continue dictating the pace of the fight.
All 3 judges scored the fight in favour of Lalhruiatluanga.
Lalhruiatluanga won the fight by Unanimous Decision
BOUT 6 – WBC YOUTH WORLD TITLE ERIC QUARM VS LALRINSANGA TLAU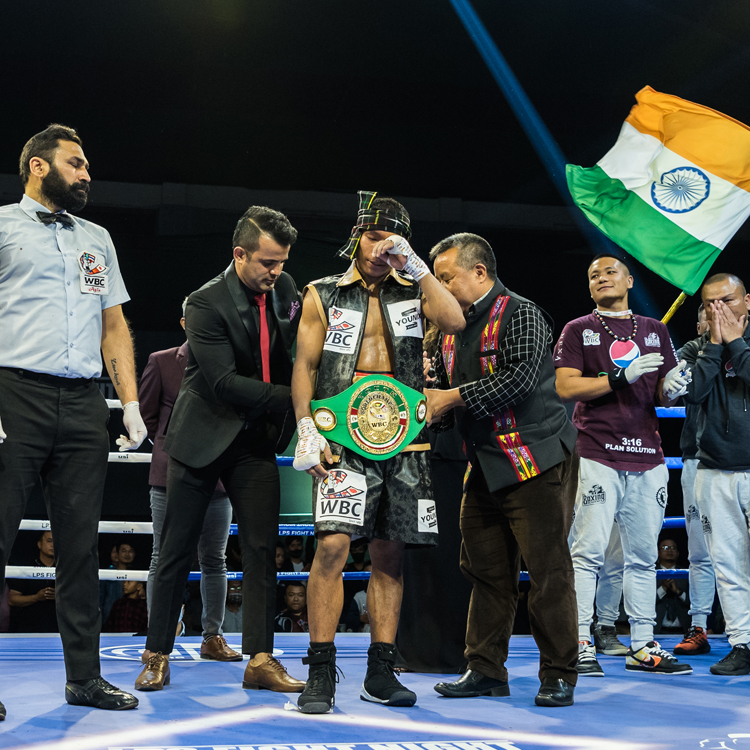 The main fight of the night was for the vacant WBC Youth World Title in the Super Feather Weight Category between Eric Quarm (Ghana) and Lalrinsanga Tlau (India).
23 year old Eric Quarm was coming into this fight with a Professional Record of 4 Wins and 1 Loss, while India's Lalrinsanga Tlau had a undefeated record of 4 Wins.
Tlau started the fight on the front foot and being the aggressor, he was not only composed and assured in his movements, but also landing clear punches to the body. In the first 3 rounds Quarm did not have many scoring opportunities and was resigned to acknowledge Tlau's superior movement and combinations.Tlau was firing jabs and left hooks to the body with Quarm on the back foot.
Both boxers had given everything in every round and they continued to do that to the final bell. Tlau was definitely the superior boxer and official Judges for the fight saw it too with a Unanimous decision in favour of Tlau
Lalrinsanga Tlau wins WBC Youth World Title with a Unanimous decision in 8 Rounds.