The Indian Boxing Council (IBC) has today announced the conduct of a 3 day Workshop & Certification for Boxing Ring Officials at New Delhi in  December 2021.
This 3 day workshop  will be conducted by 2 of the senior most technical functionaries in professional boxing in India – Brigadier PKM Raja, President of the IBC ,  Mr. Gaive Nagporewala, Chairman of the Ring Officials Commission of the IBC.
The participant officials will also undergo course content related to Ringside Medical & Boxing Injuries to be conducted by Dr. Sanjogita Soodan, Chairperson of IBC Medical Commission.
All 3 officials have been involved with the sport of Boxing for over 40 years and have officiated as Ring Officials at the Olympic Games in Athens 2004  (Brigadier PKM Raja) , Sydney 2000 (Gaive Nagporewala) and London 2012 (Dr. Sanjogita Soodan & Brigadier PKM Raja) respectively.
Gaive Nagporewala has been a Professional Boxing Supervisor in over 300 Professional Bouts and Continental Title bouts ever since the introduction of Pro Boxing in India.
VENUE & DATES OF WORKSHOP
New Delhi from 17th to 19th December 2021.
WHO CAN APPLY?
All those who are / have been Amateur Boxing Referees & Judges / NIS qualified / former National or State level Boxers / Officials of Mixed Martial Arts who are keen, physically fit and below the age of 45 years are eligible to apply.
FEES & FORMS
The Application form can be submitted online (https://www.indianboxingcouncil.com/ring-officials-application-form/)
The fees will be INR 8,500 and the candidates have to make the payment while submitting their applications online.
The last date of receipt of applications will be 05th December 2021. Acceptance of candidates will be on 'first cum first served' basis as the vacancies for the first course is limited to 30 only.
Candidates have to make their own arrangements for boarding & lodging if needed.
COURSE STRUCTURE
The workshop will be in the form of lectures followed by practical tests of Judging and Refereeing actual bouts in the Ring
Course Head

Credits

Delivered by

Technical Rules in Championship Boxing

2 Hrs

Brigadier PKM Raja,
Gaive Nagporewala

Refereeing in Professional Boxing & Championship Fights

4 Hrs

International Guest Lecturer
Brigadier PKM Raja,
Gaive Nagporewala

Judging a Professional Boxing Contest

4 Hrs

International Guest Lecture,
Brigadier PKM Raja,
Gaive Nagporewala

Ringside Medical & Boxing Injuries

2 Hrs

Practicals – Refereeing & Judging

6 Hrs

Brigadier PKM Raja,
Gaive Nagporewala
WHY YOU SHOULD BECOME AN IBC "A LEVEL" CERTIFIED RING OFFICIAL
The workshop sessions will be conducted by India's foremost Professional Boxing Supervisors & Medical Experts with over 600 professional boxing bouts, Continental Titles + World Title championship fight experience between them.
In addition key course content will also be delivered by a world renowned International Guest Lecturer via an online platform
The workshop course will be in the form of lectures followed by practical tests of Judging and Refereeing actual bouts in the Ring
Once you attend the IBC "A Level" Ring Officials Workshop and attain your certifications from the Indian Boxing Council, you automatically become eligible for a lot of opportunities and benefits. Some of them being –
Opportunity to be an active participant of a new revolution taking over Boxing in India.
Become an integral member of the fastest growing Boxing family in India which is affiliated to globally recognized & legendary boxing organizations like the WBC, WBA, WBO as well as the Commonwealth Boxing Council.
Officiate as a Ring Official in Championship Fights and Title Fights associated with WBC India and other world sanctioning bodies which are broadcast on live Television as well as Online Digital Platforms.
Deliver operations at world class boxing events with India's most exciting boxers, promoted by India's leading business houses and Boxing Promoters.
Get a handsome officiating allowance while on deputation for events. Currently, The IBC Referees & Judges receive INR 2,000 as officiating allowance when deputed for a Boxing Fight Night sanctioned by the IBC. From 01st January 2022 onwards, they will receive INR 3,000 per IBC sanctioned Event in which they officiate. A higher officiating allowance is sanctioned for WBC India Championship Fights and other World sanctioning bodies Title Fights in India in which IBC functions as the National Commission.
Indrajeet Keer Boxing Club and Boxing Promotions – Indrajeet Keer is a Indian Professional Boxing Promoter based in Palghar, Maharashtra
Read More »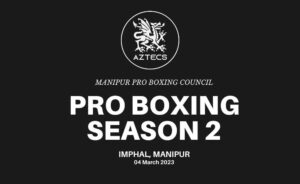 The Aztecs Pro Boxing League Season 2 to take place in Imphal, Manipur on March 4th, 2023, featuring some of the best local boxing talent. The event is being sponsored by Aztecs Sports, which offers top-of-the-line combat sport equipment and facilities. The Indian Boxing Council has sanctioned the event, ensuring that the bouts will be professionally officiated. With six exciting professional fights on the card, the Aztecs Pro Boxing League promises to be a thrilling night of boxing for fans in Manipur and across the country.
Read More »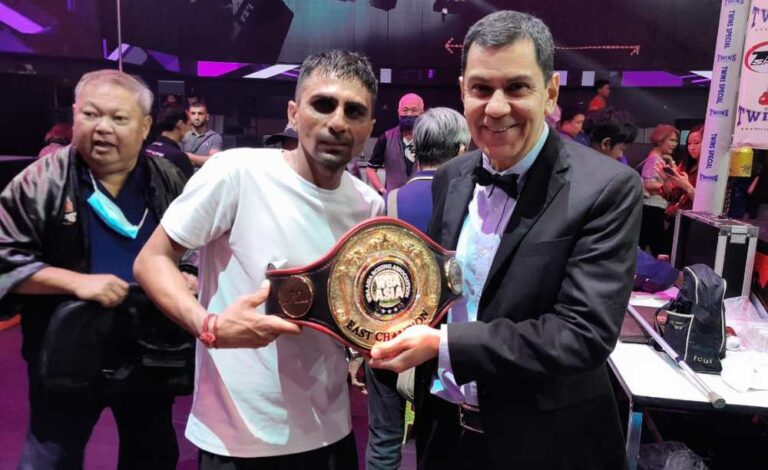 Indian boxer Sandeep Kumar shocked Japanese opponent Toshihiko Era with a Unanimous Decision win for the WBA Asia South Title in the Flyweight division. This article provides a detailed account of the thrilling match and highlights the challenges Sandeep had to overcome. Discover more about Sandeep Kumar's victory
Read More »