2 Tamil Nadu Boxers create history at Pro Boxing Fight Night at Hyderabad
Boxer Sabari J was crowned the first-ever WBC India Champion at the Hell's Bay Pro Boxing Fight Night on 05th Dec 2021 at Gachibowli Stadium, Hyderabad in front of a capacity crowd of over 3,000 people in attendance.
Hailing from Tamil Nadu, Sabari was pitted against Akashdeep Singh from Patiala for the first ever WBC India Title fight in the Welterweight division in an 8 round contest.
Sabari came into the bout on the back of a professional record of 4 Wins -1 Loss to his name and was riding high on a four-fight winning streak. Akashdeep, meanwhile, was 8-1 in his professional boxing career prior to the fight and was 4-1 in his last five fights.
It was an extremely close fight and both Sabari and Akashdeep lived up to their billing as contenders for the championship title. The bout had to be decided on points scored by the 3 judges.
The final scores were 76 -76 , 73-79, 73-79.
Judge 1, Kevin David scored the fight as a Draw (76-76) While Judges Rahul Sharma & Suraj Thakur scored the fight (73-79) in favour of Sabari J.
The Pro Boxing welterweight division is heating up with some excellent boxers featuring in the WBC India Rankings like Faizan Anwar, Neeraj Goyat and Rahul Kumar.
With this win, Sabari is the WBC India Champion in the Welterweight Division and will have to defend his title against any of the challengers from the weight Division in the coming months.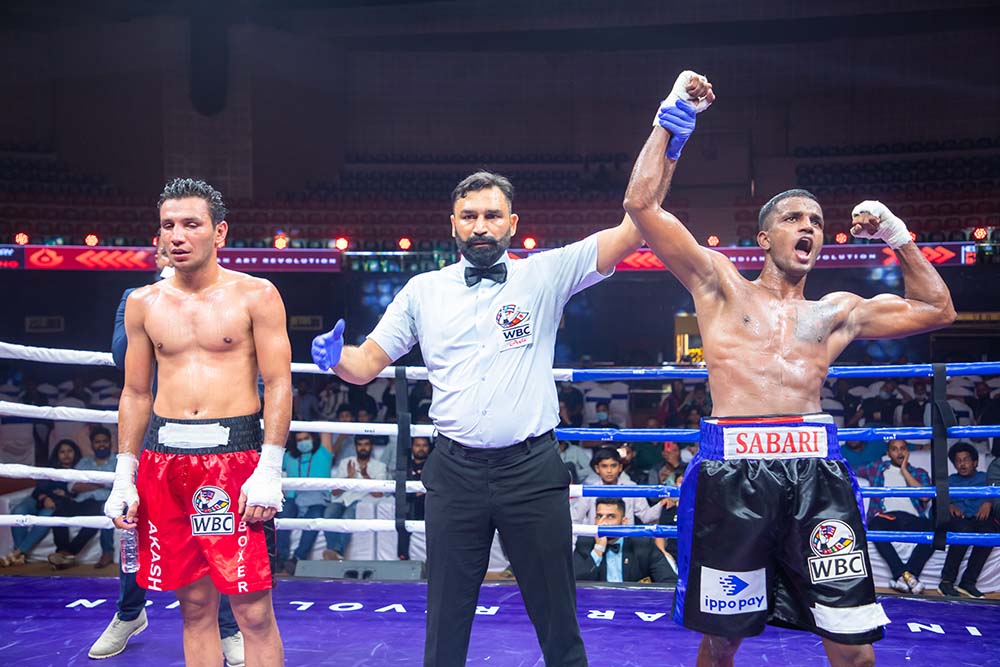 The  pro boxing fight night by The Indian Art Revolution, TIAR also featured 4 other high octane professional boxing fights including a WBC Asia – Silver Title between Karthik Sathish from India and Hero Tito from Indonesia.
Also hailing from Tamil Nadu, Karthik continued his undefeated professional boxing winning streak with an 8 round victory over the much more experienced Hero Tito from Indonesia. He was 7-0 in his boxing career while heading into the bout and with the win, he has now improved to 8-0 and this is bound to help him take a huge leap in the WBC India rankings in the coming months.
Karthik is currently ranked No 4 in the WBC India Rankings in the Lightweight division behind Sachin Dekwal, Mahesh and Digari Mahesh. Karthik is managed by Mujtaba Kamal and Grassroot Boxing Promotions & Management.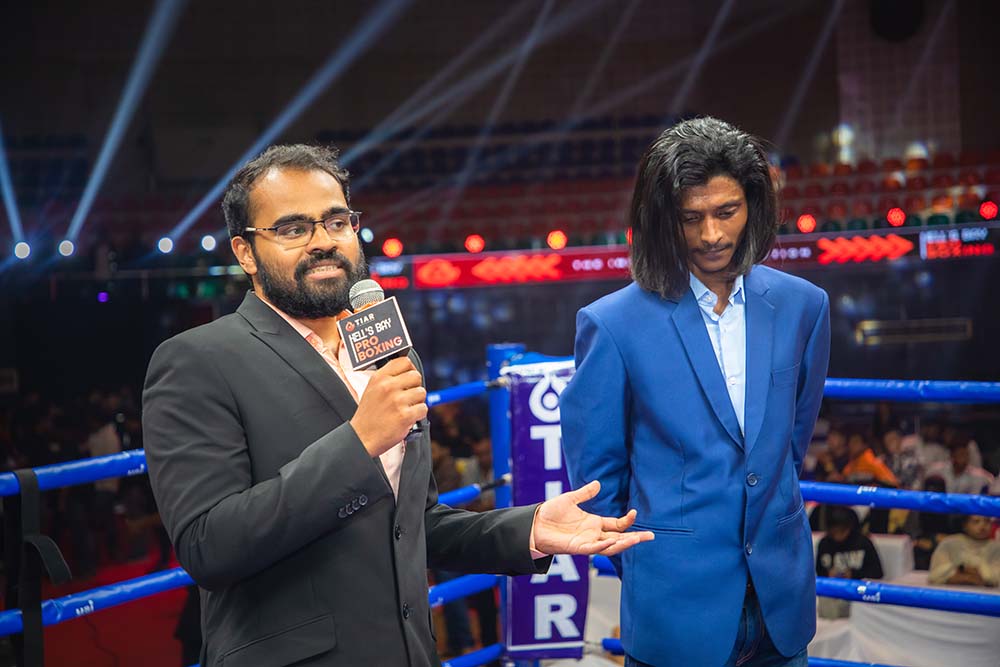 "Hell's Bay" was a flagship Pro Boxing event being promoted by TIAR.io an NFT Market place that brings together artists, NFT authenticators, merchandise partners, investors, and collectors onto a decentralized platform. 
Speaking about the fight night, Prashant Singh COO TIAR.io said,
" We look forward to the crowning of brand new Indian boxing champions tomorrow at Hell's Bay at Gachibowli Stadium, Hyderabad. This will be the first of our many pro boxing fight nights planned in the next 12 months. We want to support the Boxing ecosystem in India through the TIAR.io platform with revolutionary tech being involved in show broadcasts, boxer endorsements, sponsorship management etc through TIAR's decentralized platform based on blockchain technology.
Wt Cat
(Rds)
Red Corner



Blue Corner


Light
(8 Rds)
Karthik Sathish (TN)
Win by UD
Win
(WBC Asia
Silver Title)
Hero Tito
(Indonesia)
Welter
(4 Rds)
Akashdeep Singh (PUN)
Loss
(WBC India Title)
Sabari J (TN)
Win By Majority Decision
Feather
(6 Rds)
Asad Asif Khan ( WB)
Win by UD
Win
Nasoro Madimba (Tanzania)
Light
(4 Rds)
Gurpreet Singh (PUN)
Win by UD
Win
Lokesh Dangi (DEL)
Super Bantam
(6 Rds)
Manikandan V (TN)
Loss
Mazhar Hussain (WB)
Win by UD