Gurgaon, 29 Aug 2022: Delhi Lad Md Azahar made it official — and Unanimous — on Sunday. He's the new WBC India champion in the Super Featherweight division
Event Promotions : CSM Boxing Promotions
Matchmaker : Sumit Sharma
Venue : Diggaj Dharm Boxing Hub, Gurugram
WBC India Title : Md Azahar Vs Dharamvir
It was supposed to have been an easy walk in the park win for Dharamvir. Prior to this fight, Azahar was ranked 7th in the division and Dharamvir Singh was ranked at No 3.  All of that changed in a matter of 32 minutes of pure boxing at Gurgaon last night. Azahar, won a unanimous points decision at the end of 8 gruelling rounds.
As if on cue, 25-year-old Azahar lost the 1st round on all 3 judges cards but went on to win the next 7 rounds convincingly to become the first ever Indian National champion in the Super Featherweight division.
The judges scored the fight 79-72, 76-75 and 79-72 in Azahar's favor.
Azhar, proved to be the better technical fighter before a partisan crowd who stayed on for the entire fight night. He, now has an record of 5 Wins and 5 losses with 4 Kos to his name.
"I was comfortable, just sticking to doing what I do best," Azahar said. "The game plan was to hit and not get hit. I fought a good smart fight. He couldn't hit me with any of his best shots."
"My family thinks I am wasting my time in boxing, but I want to prove everyone wrong and become the best in my category," Md Azhar, who lives in Delhi, had said before the fight,. "I know a lot will change for me from now on!
Dharamvir, now has a record of 7 wins and 4 losses. His previous loss had come over 3 years back before the Covid 19 pandemic derailed the best laid boxing plans.
"I thought the fight was very close," Dharamvir said. "I'm going to change a few things and get him back sometime later, Dharamvir said. "Today they gave him the decision but I'm sure that will change when we get it on again."
The Super featherweight division includes former WBC Youth world champion Lalrinsanga Tlau of Mizoram, Amandeep Singh (Former CWG Bronze Medallist) and few other very gifted technical fighters like Dharmender and Anuj Kumar.
Other Results : CSM Boxing Promotions India
The fight night promoted by CSM Boxing Promotions included 7 other fights.
In an exciting 4 round cruiserweight contest, Jaskaran Singh from Punjab won a points decision over debutante compatriot Harsamardeep Singh.
Harsamardeep, seemed to have been overawed by the occasion in the 1st round and the it looked as if the fight may not even last the 4 rounds.
He however stunned Jaskaran with stinging blows and powerful hooks from the 2nd round onwards to seriously cause concern for the muscular and tall Jasakaran. Jaskaran held on for the win. The scores were 35-4, 35-40, 35-40.
Middleweight Shiva (14-3-1) won a close 6 rounder against Karanjeet Singh (1-4-1). Shiva was making a comeback after 2 years and looked rusty in the early rounds. Karanjeet, despite his record of 4 losses looked comfortable and even took the 2nd and 3rd Round. Shiva, hung on. The final scores were 58-56. 58-56, 58-56.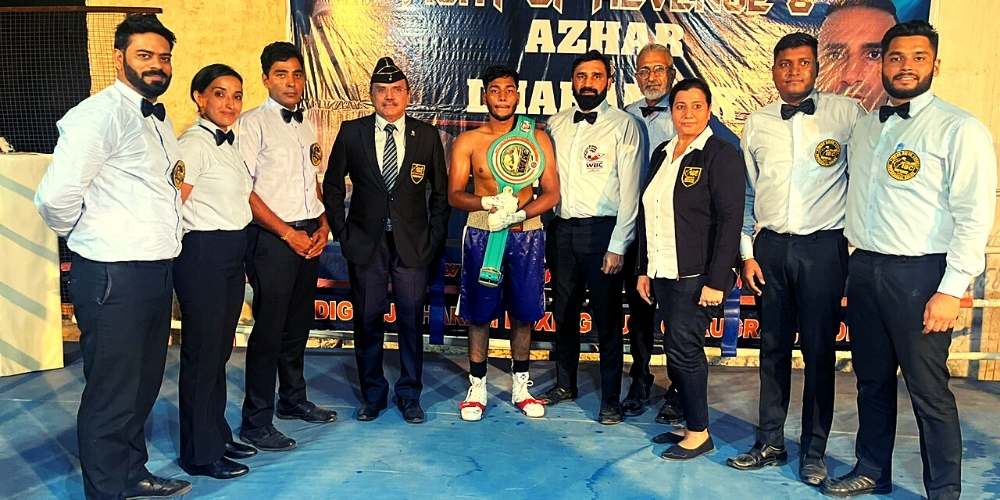 Wt Cat
(Rds)
Red Corner



Blue Corner


Super Feather
(8 Rds)
Dharamvir Singh
L
Md Azahar
(Won By UD)
Middle
(6 Rds)
Shiva
(Won By UD)
W
Karanjeet Singh
Super Welter
(6 Rds)
Manish
(Win by UD)
W
SImranjeet Singh
Feather
(4 Rds)
Mandeep Singh
L
Sidhant Lakhera
(Won by UD)
Cruiser
(4 Rds)
Harsamardeep Singh
L
Jaskaran Singh
(Won by UD)
Super Feather
(4 rds)
Dharmender Singh
(Won by TKO)
W
Ankur Chauhan