07 MAR 2021
A possible watershed moment for Professional Boxing in India was witnessed at the "R Dengthuama Multipurpose Stadium" in Aizawl, Mizoram on the night of 06th March 2021.
21 Year old Lalrinsanga Tlau (IND) defeated his opponent Eric Quarm (GHA) with a Unanimous Decision from the Judges in a gruelling 8 round contest to be crowned the new WBC Youth World Champion in the Super Feather Weight Division.
The night belonged to the diminutive and unassuming young lad, Lalrinsanga who carried the weight and expectations of the entire state of Mizoram during his 8 round World Title fight against a taller and older opponent in Eric Quarm from Ghana.
This was the first time ever that an Indian was challenging to be crowned a World Champion in Professional Boxing.
The fight went the whole 8 rounds and the Judges scores were
Judge 1, Ajay Salvi 80-72 in favour of Lalrinsanga,
Judge 2, Suraj Thakur 80-72 in favour of Lalrinsanga &
Judge 3, Mohammed Ali 80-72 in favour of Lalrinsanga.
A Unanimous Decision in favour of the new Youth World Champion, Lalrinsanga Tlau!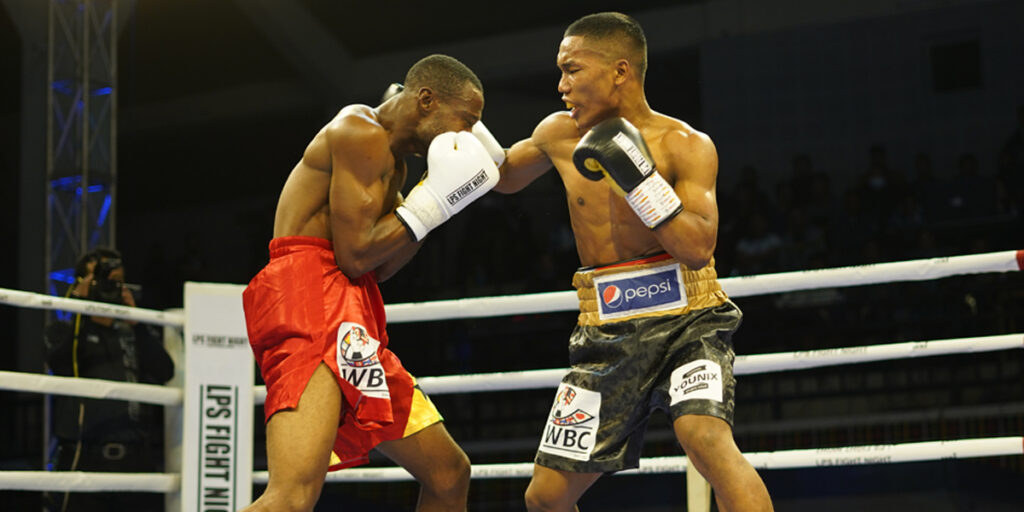 The 'LPS Fight Night' was organized by Grassroot Boxing Promotions (Mujtaba Kamal) and LPS Vision Production (Lal Sawmliana Pachuau).
Since Covid protocols are still applicable at all sporting events in the country, the night missed the presence of a live stadium audience egging Lalrinsanga on! The show was available on Pay Per View and the promoters had already clocked over 50,000 buys until the last count was received a day prior to the event.
The Sports Minister of Mizoram, Mr. Robert Romawia Royte, was present at the show for the Main Title Fight as well as some of the fights from the undercard.
Results of the other Undercard Fights
Welterweight – Valramfela (Mizoram) defeated Rohit Choudhary (Punjab) by Unanimous Decision (40:36, 40:36, 40:36)
Featherweight – Asad Asif Khan (Kolkata) defeated Nabab Singh (Delhi) by Technical Knock-out in 1min 32 Secs of 3rd Round.
Super Lightweight – Vanlalawmpuia (Mizoram) defeated Rakesh Krishnan (Bengaluru) by Technical Knock-out in 2mins 50 secs of 4th Round.
Super Bantamweight – F. Zoramchhana (Mizoram) defeated Mazhar Hussain (Kolkata) by Unanimous Decision (60:54,60:54.60:54)
Super Welterweight – C. Lalhruatluanga (Mizoram) defeated Joseph Emmanuel Ngindu (Congo) by Unanimous Decision (60:54, 60:54, 60:54)