In an exhilarating showdown, Kullu's rising boxing star, Ashish Bhandor, is set to square off against the hard-hitting Thai pugilist, Aekkaphob Auraiwan, for the Asian Boxing Federation (ABF) Heavyweight Title. The much-anticipated battle over 10 rounds will take place at the vibrant Space Plus Nightclub, RCA Plaza, in the heart of Bangkok on 27th July 2023.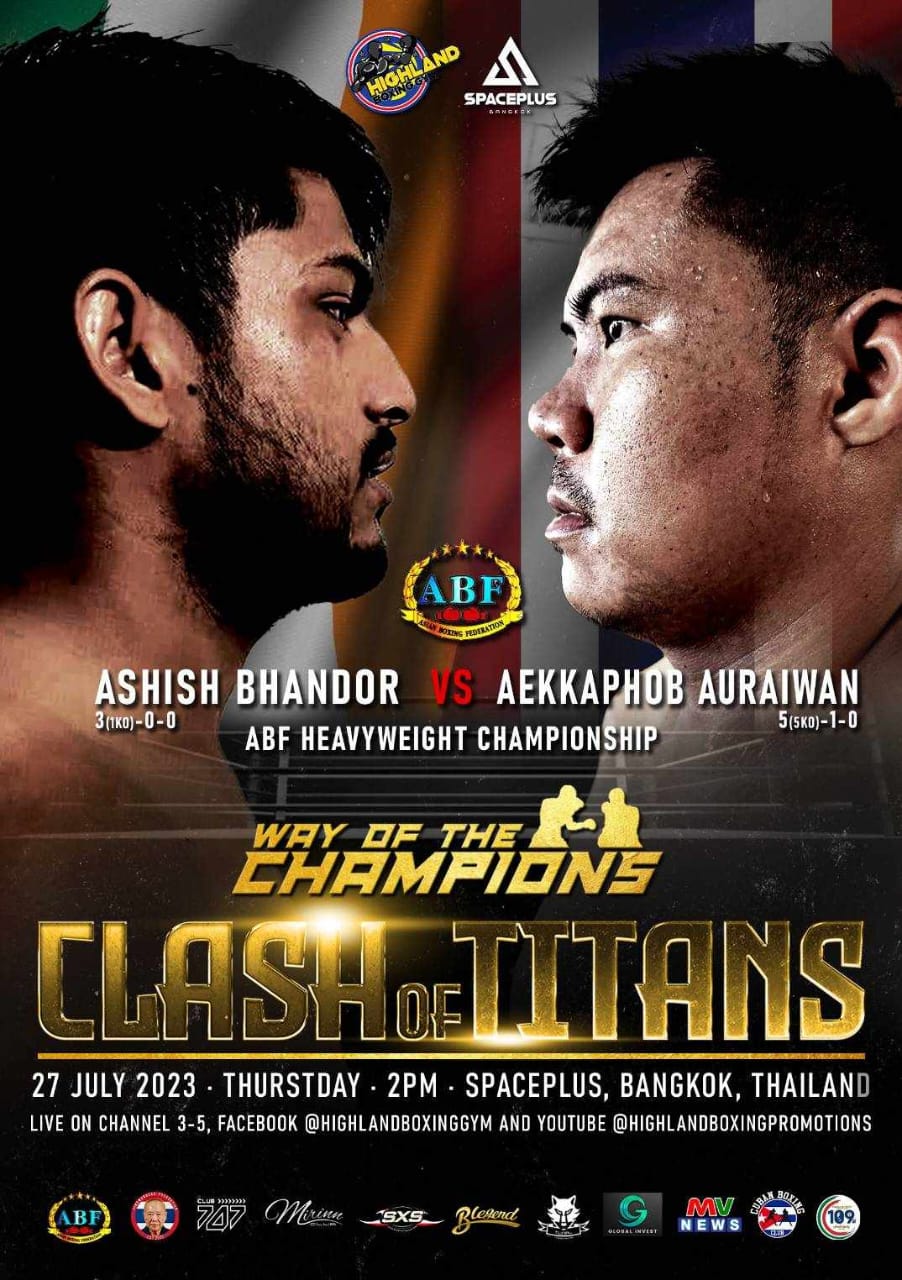 Ashish Bhandor : Amateur National Bronze Medallist
The Himachal Boxer, with an impressive record of 3 wins, including 1 knockout, has been steadily climbing the ranks in the boxing world. Recently, he claimed the National Bronze medal at the 2022 Amateur Nationals, showcasing his exceptional skills and determination. Boxing in India in the Amateurs is a completely different experience to the hard hitting blows in the professional ranks.
Bhandor is being managed by top ranked Indian Middleweight Brijesh Meena of CSM Promotions India.
The ABF title match promises to be a thrilling spectacle for boxing enthusiasts in India and beyond. For those eager to witness the action live, the event will be streamed on the boxing promoter's Facebook page @highlandBoxingGym and YouTube channel @Highland Boxing Promotions.
Aekkaphob Auraiwan, aged 29, boasts a record of 5 wins, all coming by knockouts, with each victory achieved within just 4 rounds. The Thai boxer's only setback came at the hands of Pakistani Heavyweight Taimoor Khan, who himself is a former ABF Heavyweight Champion and the reigning WBC Asia Continental Bridgerweight Champion.
With both fighters hungry for victory and sporting an impressive track record, the ABF Heavyweight Title match is expected to be an electrifying clash of raw power and skill. As anticipation builds, fans from across the globe eagerly await to witness this captivating battle between Ashish Bhandor and Aekkaphob Auraiwan, where the ABF Heavyweight Title will find its rightful owner.